Ce anume v-a determinat sa va alegeti profesia de medic stomatolog?

Nu pot spune ca eu mi-am ales profesia, ci mai degraba ca profesia de dentist m-a ales pe mine. Fac parte dintr-o familie cu traditie in stomatologie (mai exact, toata familia din partea mamei) si a fost oarecum de la sine inteles ca voi urma acelesi drum. Undeva, in timpul liceului, am avut acele "15 minute de revolta", dar am revenit repede la meditatiile de la biologie, chimie si fizica pentru atat de temutul examen de admitere la stomatologie.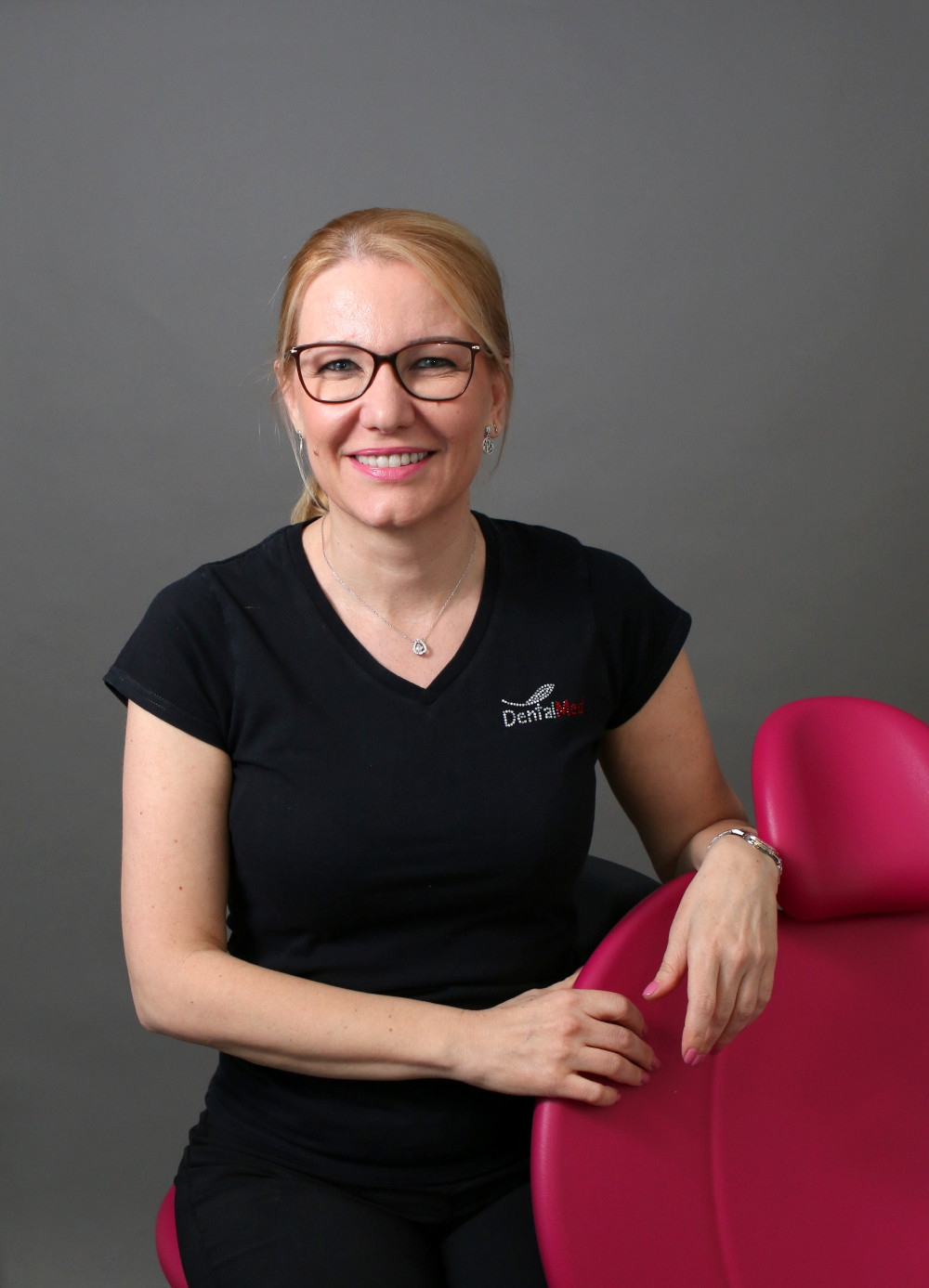 Sunteti mama a trei copii si medic. Cat de greu a fost sa imbinati cele doua 'profesii ' ?
Intr-adevar, sa fii mama a trei copii este o profesie, fara doar si poate. Nu este usor sa le imbini, dar nu este imposibil. Este nevoie de multa organizare si mai ales multa dragoste. Copiii mei au simtit mereu ca ei sunt pe primul loc, chiar daca de multe ori sunt plecata de dimineata pana seara. Timpul pe care il petrec cu ei este valoros si profitam la maxim de el. Faptul ca suntem asa apropiati ma ajuta si pe mine sa fiu un doctor mai bun, dragostea lor ma motiveaza si ma obliga. Si sper ca macar unul dintre ei sa pastreze traditia familiei si sa devina stomatolog.
Cum v-ati hotarat pentru o specializare in parodontologie ?
In primul rand in meseria noastra niciodata nu poti considera ca stii prea mult. Nici macar suficient. Este o meserie care se dezvolta intr-un ritm rapid, astfel incat mereu ai ceva de invatat. Inainte de parodontologie a existat si inca face parte integranta din viata mea profesionala o alta specialitate, endodontia. Este acea parte din medicina dentara care are ca scop salvarea dintilor prin tratarea canalelor radiculare.
De ce parodontologia? Din mai multe motive. In primul rand se ocupa cu salvarea dintilor afectati de boala parodontala. Cum speranta de viata a crescut considerabil, oamenii doresc sa isi pastreze dintii naturali cat mai mult timp posibil. Ca sa nu mai vorbim ca, in anumite situatii si copiii pot fi afectati de boala parodontala sau adultii de varsta tanara.
Parodontologia ofera insa si solutii tratament extrem de utile, cum sunt interventiile plastice mucogingivale, prin care se schimba sau imbunatateste aspectul gingival, in functie de problemele si dorintele pacientului si ale medicului curant. Parodontologia este o specialitate complexa si fascinanta a stomatologiei, care implica atat sanatatea dintilor, cat si aspectul lor estetic.
In zilele noastre, pacientii sunt foarte mult atrasi de ideea de a-si imbunatati aspectul zambetului prin tratamente de estetica dentara: fatete dentare, coroane integral ceramice sau pe suport zirconiu. "Hollywood Smile", spre exemplu, este un concept care aduce transformari substantiale ale formei si esteticii dintilor, dar care, cel putin in cadrul clinicii noastre, presupune si o armonizare a dintilor cu aspectul gingiei, pentru pentru un efect cu adevarat spectaculos. Realizarea acestor proiecte complexe de reconfigurare a zambetului pacientului presupune insa cooperarea multi-disciplinara a membrilor echipei – implica cel putin un medic protetician profilat pe estetica dentara, chirurgi, parodontologi si de multe ori si specialisti in endodontie si ortodontie. Sunt proiecte care ne provoaca permanent, pentru ca de multe ori cazurile de care ne ocupam sunt "extreme cases", a caror sansa de reusita, fara a avea o echipa de o asemenea anvergura si cu multa experienta in spate, pot ajunge sa aiba o finalitate mediocra. Este unul dintre motivele pentru care am ales acestea specialitate – faptul ca prin intermediul parodontologiei pot avea satisfactia realizarii unor tratamente complexe, care aduc beneficii majore pacientilor.
V-ati inceput cariera medicala in Israel, cum puteti descrie stomatologia de acolo prin comparatie cu Romania ?
Am inceput sa lucrez in Israel la sfarsitul anilor '90, imediat dupa ce am terminat facultatea in Romania. Atunci era o diferenta destul de mare intre cele doua tari referitor la stilurile de lucru, tehnologia si materialele folosite in tratamentele stomatologice. In Romania inca se lucra sub influenta perioadei de dinainte de 1989. Din fericire, lucrurile nu au mai ramas multa vreme asa, medicina dentara cunoscand in acea perioada o dinamica si un progres formidabil in Romania.
M-am intors in Bucuresti dupa 10 ani in care am profesat ca medic dentist in Israel, pentru a contribui la crearea unui concept nou, as putea spune chiar revolutionar pentru acea vreme – o clinica stomatologica de lux. Ceea ce a fost la inceput o viziune indrazneata si inovatoare a celor doi fondatori si owneri, Dragos si Razvan Popescu, a devenit realitate incepand cu 2007, anul in care clinica DentalMed s-a inaugurat. Privind retrospectiv, pot spune ca am fost privilegiata sa ma numar printre cei aproape 15 membri care au facut parte din echipa de angajati care a dat viata acestui concept inovativ, acum 12 ani. In prezent, cifrele arata cu totul altfel si 100 de angajati contribuie la crearea acelei experiente unice pentru pacientii DentalMed, intr-o locatie exclusivista de peste 900 de metri patrati, desfasurati pe 3 etaje si 12 cabinete dentare, in care designul futurist ne duce de multe ori cu gandul ca suntem intr-o nava spatiala si nicidecum intr-o clinica dentara.
Avem in dotarea clinicii aparatura de cea mai inalta calitate, sunt cele mai noi tehnologii existente in acest moment in lume pentru industria stomatologica. Prin dotarile de top, aparatura de ultima generatie si resursele umane (personal medical, logistic si administrativ) pe care clinica le are in prezent, oferim pacientilor nostri solutii de tratament medical complete si complexe, cu care este dificil sa rivalizezi. Am avut privilegiul sa calatoresc destul de mult si din dorinta de a cauta permanent elemente noi, pe care sa le asimilam in cadrul clinicii, am vizitat clinici dentare din afara tarii: Israel, Franta, Statele Unite etc. si am simtit cu mandrie de multe ori ca oferta noastra este superioara.
Acum 12 ani ati ales sa va intoarceti din Israel, dupa o cariera frumoasa inceputa intr-o tara in care medicina se desfasoara, asa cum stim cu totii, la cele mai inalte standarde. Ati regretat vreodata aceasta alegere, de a va intoarce sa profesati ca medic in Romania?
M-am intors din Israel in 2007, intr-un moment in care in Romania era multa speranta. A fost anul in care am intrat in Uniunea Europeana, nu ne mai trebuiau vize pentru calatorii, aveam impresia ca de data aceasta visele chiar pot deveni realitate. Ceea ce de fapt pentru noi s-a si intamplat: DentalMed a fost visul nostru implinit, am reusit sa construim ceva extrordinar!
Daca regret? Nici o secunda, la fel cum nu regret nici ca am plecat in Israel la sfarsitul facultatii. Dintotdeauna am crezut ca nu exista un loc care e bun sau rau pentru toata lumea, fiecare isi gaseste pana la urma locul care i se potriveste. Pentru mine, sa ma intorc in Romania a fost cea mai buna decizie!
Sunt pacientii romani diferiti de cei din Israel sau din alte tari pe care le cunoasteti?
Cred ca pacientii sunt diferiti intre ei la fel cum toti oamenii sunt diferiti intre ei. Bineinteles ca exista diferente culturale: israelienii sunt poate ceva mai expansivi in comparatie cu romanii si, la fel ca si in cazul italienilor sau al grecilor, se simte influenta mediteraneana. Pe romani ii cunoasteti, sunt la fel in cabinetul dentar ca in viata de zi cu zi. In general insa pacientii, indiferent de tara de originie, vor cam acelasi lucru cand vin la dentist: sa nu ii doara, sa aiba un doctor care sa empatizeze cu durerea lor, cabinetul sau clinica sa straluceasca de curatenie, sa se simta in siguranta referitor la respectarea standardelor de dezinfectie si sterilizare si, daca se poate, sa nu ii coste foarte mult☺
Este foarte adevarat ca in cadrul clinicii DentalMed exista un mozaic cultural al pacientilor, multi dintre ei fiind pacienti straini (expati sau pacienti care locuiesc in strainatate). Putem spune insa ca exista si un profil al pacientilor care aleg sa acceseze serviciile clinicii, care sunt nisate pe zona serviciilor medicale de lux. De cele mai multe ori este vorba despre pacientii care doresc sa nu faca niciun fel de compromis atunci cand este vorba despre tratamentul lor. Sunt pacienti pentru care timpul are o valoare enorma si in care concepte inovative precum "One Stage Surgery" sau alte servicii dezvoltate de clinica pentru a optimiza timpul petrecut de pacient pentru tratament sunt extrem de apreciate, devenind diferentiatori in raport cu alte clinici medicale.
Cat de mult este talent si cat de mult este studiu in medicina ?
Studiul este indispensabil oricarei ramuri a medicinei, deci cu asta trebuie sa incepem. Pentru a fi licentiat ca medic trebuie sa studiezi, chiar foarte mult. Nu intamplator durata facultatii de medicina (stomatologie) este de 6 ani, la care se adauga apoi anii de specializare. In ceea ce priveste talentul, sunt multe de spus. Cred insa ca, in general, orice talent ai avea, il poti valorifica in medicina, mai ales ca medicina (cu foarte putine exceptii) inseamna lucrul cu oamenii. Este esential sa creezi un contact cu pacientul, astfel incat acesta sa se simta in largul lui si sa aiba totala incredere in actul medical.
In plus, pentru stomatologie vorbim despre o multime de talente care trebuie activate – daca acestea exista, sau cultivate – daca nu am fost de la inceput daruiti cu ele. Si asta pentru ca de cele mai multe ori pacientul ajunge la medicul dentist cu frica, chiar cu ostilitate. Medicul trebuie in acelasi timp sa il ajute pe pacient sa scape de durerea care este factorul cel mai frecvent ce ii aduce pe pacienti in cabinetul de stomatologie si totodata sa creeze acea legatura de incredere care sa il determine sa revina in cabinet.
Cei mai talentati dintre medicii dentisti reusesc in timp sa schimbe total perceptiie initiale negative ale pacientilor, care se pot transforma pe termen lung in cei mai complianti sau fideli pacienti. Este foarte adevarat ca in aceste situatii medicul dentist poate sa fie sustinut de o suita intreaga de elemente ajutatoare: designul clinicii, personalul cu care interactioneaza, felul in care se desfasoara comunicarea cu pacientul s.a. In clinica DentalMed, spre exemplu, dorinta de a crea pacientului o experienta unica, menita a-i crea o stare total diferita fata de aceea clasica, asociata mersului la stomatolog, este chiar viziunea companiei: "We believe that dental treatment can be transformed in an impressive healthcare experience!".
In ceea ce priveste actul medical propriu zis, fara indoiala ca indemanarea, manualitatea crescuta, ajuta mult in stomatologie. Din fericire ins, daca acestea nu exista de la inceput, se pot dobandi ulterior prin studiu si experienta.
Cum este in Romania profesia de dentist pentru o femeie – credeti ca ii este mai usor sau mai greu decat unui barbat? 
Romania este, statistic vorbind, una dintre tarile in care nu exista diferente intre barbati si femei, atat din punct de vedere al posibilitatilor de a face o cariera, precum si al salariului pe care il obtin pentru aceeasi munca prestata. Si nu este putin lucru intr-o Europa in care femeile inca sunt platite mai putin decat barbatii, chiar in tari dezvoltate cum ar fi Franta si Germania. Stomatologia, in particular, este o meserie care iti permite un anumit grad de libertate, programul nu este la fel de strict ca pentru un medic care lucreaza in spital si care trebuie sa fie dimineata la ora 07.00 pentru raportul de garda.
Depinde de ce vrei sa faci ca stomatolog si cat timp esti dispus sa dedici profesiei, insa in general exista, asa cum spuneam, un grad mai mare de libertate in stabilirea programului si a timpului pe care sa il dedici lucrului in cabinet. In general, cel putin in clinicile dentare, se lucreaza in ture, iar medicul isi poate configura un program care sa ii permita sa imbine aspectele profesionale cu viata de familie, mai ales pentru femei sau mame. Eu personal am simtit intotdeauna in cadrul clinicii sustinerea in a-mi stabili un program de lucru care sa se bucure de suficienta flexbilitate astfel incat sa pot sa ma dedic si familiei sau studiilor, pe parcursul specializarii sau al diverselor cursuri. Iar acest aspect nu a fost doar privilegiul meu, in general femeile (medici, asistente, personal administrativ) si in special mamele, au avut intotdeauna in cadrul clinicii sustinerea managementului pentru a se ocupa si de viata de familie.
Poate un medic sa faca preventie? Sau totul este educatia oferita de familie ?
In primul rand, in cadrul educatiei oferite de familie trebuie sa existe vizita la medicul stomatolog de la o varsta frageda, de cand apar dintii de lapte, ca pe o vizita de rutina. Astfel, medicul poate ajuta copilul sa previna cariile dentare si sa intervina atunci cand problemele stomatologie sunt la debut. Este problema cea mai mare asociata dintilor de lapte si care, lasata netratata, poate duce la pierderea lor precoce. Din pacate dintii permanenti, aflati in proces de formare, ajuns sa fie si ei afectati.
Pentru ca stim cat este de important ca informatiile despre sanatatea dentara sa ajunga la micuti intr-o forma cat mai usor de asimilat de catre ei, dar in acelasi timp intr-un cadru care sa ii stimuleze, colegii mei din departamentul de stomatologie pediatrica, organizeaza periodic lectii de igiena dentara pentru copiii din scoli sau gradinite. Fie colegii nostri merg in clasele micutilor sau copiii insotiti de cadrele didactice vin in vizita la clinica (moment in care se si familiarizeaza cu mediul, cu echipamentele medicale specifice). Timp de aproape 30 de minute copiii sunt purtati intr-o calatorie multimedia, avand ca tema ingrijirea dintilor. Deschiderea pe care o manifesta copiii, precum si felul in care acestia absorb informatiile pregatite de colegii nostri, sunt uimitoare….feedbackurile pe care parintii ni le transmit de obicei dupa aceste evenimente ne fac sa fim plini de optimism ca informatii extrem de utile pentru acesti copiii au ajuns la ei intr-o forma pozitiva, intr-o maniera perceputa ca un jos al descoperirilor si nicidecum ca pe ceva impus, sau, si mai grav, ca pe ceva de care ei sa se teama.
Daca vorbim despre preventie in cazul bolilor parodontale la adulti, spre exemplu, se poate realiza de catre medic in colaborare stransa cu pacientul. Pacientul este ghidat de catre medicul stomatolog pentru insusirea corecta a tehnicilor corecte de periaj, pentru folosirea mijloacelore de igienizare interdentara (cum ar fi ata dentara sau dusul bucal) si sa se prezinte regulat la vizitele de control la medicul stomatolog. As spune deci ca preventia se face si acasa si in cabinetul medical, incepand cu varsta copilariei si continuand pe tot parcursul vietii.
Considerati ca trebuie sa existe o relatie buna medic-pacient? Cum se cladeste aceasta, in opinia dumneavoastra?
Cu siguranta ca o relatie buna medic-pacient este esentiala pentru reusita tratamentului. Imaginati-va un pacient suparat pe doctorul care il trateaza si un medic care nici nu vrea sa auda de pacientul pe care il are in tratament…. nu e tocmai reteta reusitei, as spune☺
Pe de alta parte, cred ca o relatie de incredere intre medic si pacient se cladeste in timp, de altfel ca orice alta relatie intre oameni. Este cu atat mai important cu cat sunt studii care arata ca daca pacientul are incredere in medicul care il trateaza, cresc sansele de reusita ale tratamentului prescris de acesta.
In mod particular atunci cand este vorba despre medicul stomatolog, cele mai de succes relatii medic – pacient sunt cele pe termen lung. Practic pe parcursul intregii lor vieti oamenii au nevoie de dentist, pentru tratament sau, in cazurile fericite, pentru profilaxie si controalele de rutina.
Unul dintre motivele pentru care imi place sa lucrez la DentalMed este acela ca pacientul este abordat intr-o maniera completa si ca serviciile sunt concepute astfel incat sa poata deservi intreaga familie. In cadrul clinicii exista o divizie dedicata special copiilor, DentalMed Kids, care este o entitate dedicata 100% copiilor, de la design si echipamente speciale si pana la echipa medicala. Ei sunt cei care au grija ca pacientii copii sa ajunga pacientii adolescenti si mai tarziu adultii pentru care medicul stomatolog este parte integranta din viata lor. Este un sentiment reconfortant sa te ocupi de un pacient care a crescut odata cu clinica si de la micutul de 6 ani care pasea cu neincrederea in cadrul clinicii acum 12 ani sa vezi un adult increzator, pregatit pentru o evaluare parodontala, sa zicem. Beneficiile sunt in egala masura pentru medic si pentru pacient, o relatie apropiata si de lunga durata cu medicul dentist ajutand la evitarea crearii unor probleme dentare acute – tratamentul este mai usor si, evident, mult mai putin costisitor pentru pacient.
Lucrati in general in echipa. Cum va alegeti colaboratorii? Care sunt criteriile de care tineti cont?
Asa cum spuneam mai devreme, munca mea presupune foarte frecvent lucrul in echipe medicale multi-discipinare, alaturi de alti colegi medici, atunci cand cazurile pacientilor au o complexitate mai mare si solicita expertiza mai multor specialisti. Este un beneficiu atat pentru pacient, care primeste maxim ca nivel de realizare a tratamentelor, pentru ca practic fiecare aspect al tratamentului este gestionat de medici specializati pe acel tip de tratamente, precum si pentru ceilalti medici implicati. Munca noastra este asemenea unui puzzle, iar daca piesele de care noi avem nevoie sunt realizate impecabil de catre colegii din celelalte specialitati, am asigurate premisele pentru ca tratamentele pe care eu le realizez sa fie parte dintre-un ansamblu coerent, care la final sa fie in primul rand corect din punct de vedere medical, dar in acelasi timp sa indeplineasca asteptarile pacientului – motivul pentru care el a ales sa isi inceapa tratamentul dentar.
Pentru o reusita deplina a tratamentelor dentare nu doar cooperarea cu ceilalti colegi medici este importanta, ci si celelalte entitati implicate: asistentele, personalul de suport – colegii din departamentul de imagistica, din echipa de front desk sau din departamentul de customer care. Este important sa impartasim cu totii aceleasi valori si sa avem un obiectiv comun – satisfactia pacientului.
Este cunoscut faptul ca profesia de dentist este printre meseriile a caror practicare genereaza un nivel mare de stress. Ce faceti pentru a va elibera de acest stress – care sunt trucurile dumneavoastra?
Ce poti face ca dentist ca sa scapi de stresul zilnic asociat acestei meserii ? Probabil ajuta sa lucrezi mai putin, dar asta nu intra in calculele mele. Mie, de exemplu, imi place foarte mult sa citesc, astfel ca incerc sa parcurg in fiecare zi macar cateva pagini (asta in afara de literatura de specialitate care, din punctul meu de vedere, este obligatorie!). O alta modalitate de a scapa de stres sunt calatoriile. Incerc de cate ori am ocazia sa imi petrec timpul liber calatorind. Filmele, de asemenea, reusesc sa ma deconecteze sau serialele, mai ales cand fac asta impreuna cu copiii mei (sunt suficient de mari, din fericire!)…Netflix ul este o resursa foarte generoasa din punctul acesta de vedere!
Cu toate acestea nu trebuie sa ramanem cu ideea ca stomatologia e doar generatoare de stres. Este o meserie extrem de frumoasa si plina de provocari, pe care eu personal o fac cu mare placere si care iti poate oferi multa satisfactie. Sa fii dentist inseamna sa fii cate putin din toate: psiholog, inginer, artist… este o meserie complexa, care te solicita foarte mult, dar care iti si intoarce inapoi la fel de multe satisfactii!