"Pentru noi, definitia luxului reprezinta atingerea celor mai inalte standarde medicale. Restul sunt detalii….importante de asemenea!"
Siguranta si respectul pentru pacientii nostri reprezinta principii care ne ghideaza in activitatea zilnica, de aceea dorim sa va informam ca DentalMed foloseste CEL MAI PEROFRMANT Sistem integrat de Sterilizare si Dezinfectare existent in domeniul medicinei dentare in lume la momentul de fata, rezultat al cercetarilor laboratoarelor producatorului canadian SciCan.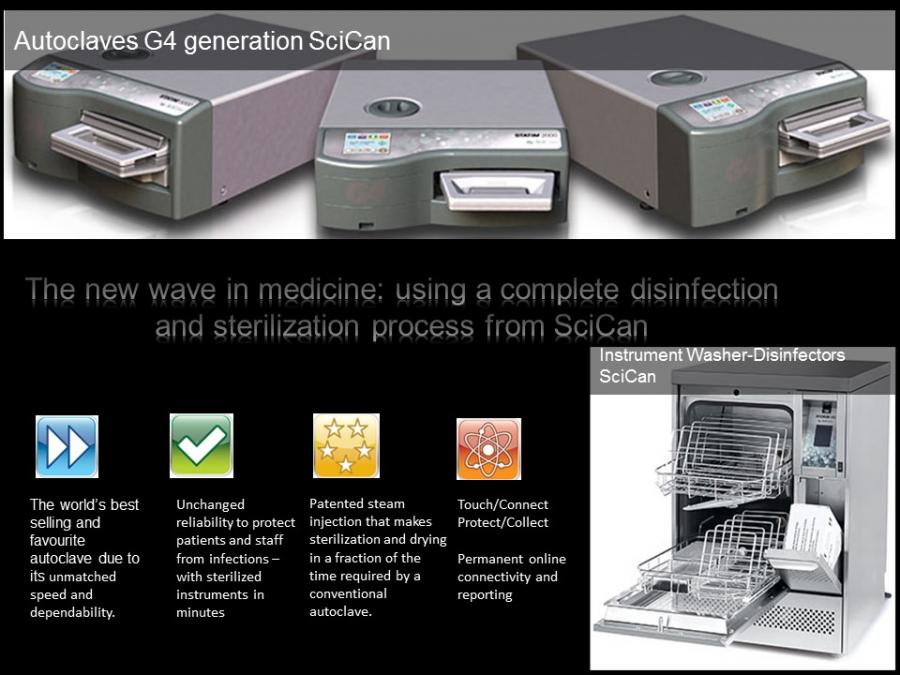 DentalMed utilizează cele mai avansate tehnologii pentru spălarea și sterilizarea instrumentarului stomatologic. Procesele de spălare, dezinfectare și sterilizare sunt realizate cu ajutorul mașinilor de spălat și autoclavelor SciCan Dental. Echipamentele de ultimă generație validează cicluri complete de procesare a instrumentarului și asigură conectivitate online permanentă, oferind garanția deplină a performanțelor echipamentelor.
Clinica stomatologica DentalMed are in dotare cea mai moderna aparatura stomatologica. Va prezentam cateva dintre echipamenetele noastre:
1. EMS ALL-​IN-ONE AIRFLOW® STATION+
EMS- Guaranteed Swiss Precision and superb design. Reliability and know – how since 1981.
Fabricat in Elvetia, AIRFLOW® Prophylaxis Master a fost dezvoltat in cadrul Centrului de Cercetare EMS si este rezultatul a peste 100 000 de ore de testare clinica si tehnica in colaborare cu nume sonore din sectorul stomatologic international rezultand componente tehnologice unice.
Este un dispozitiv folosit pentru profilaxia dentara (air flow) care utilizeaza apa, aer si pulbere de bicarbonat de sodiu pentru a indeparta petele, placa si depozitele moi de pe suprafetele dintilor. Datorita pulberii usor abrazive de bicarbonat, se realizeaza in acelasi timp si lustruirea suprafetelor igienizate.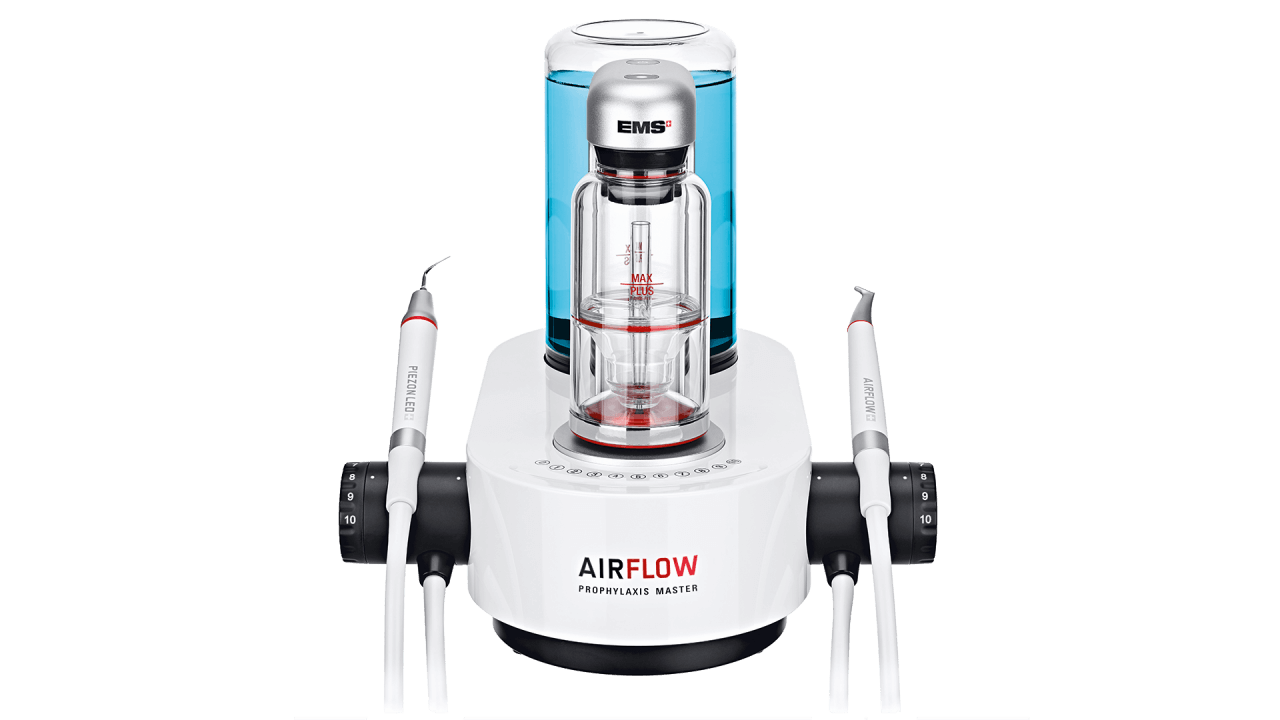 ALL-​IN-ONE PROPHYLAXIS STATION este cel mai performant sistem de igienizare si profilaxie dentara, acreditat de catre EFP (European Federation of Periodontology).
AIRFLOW® Prophylaxis Master inglobeaza componente unice:
Pulberea utilizata de AIRFLOW Prophylaxis Master indeparteaza in mod confortabil si eficient placa bacteriana, petele si tartrul incipient supra si subgingival.
Piesa de mana PERIOFLOW® reprezinta tehnologia state-of-the-art pentru indepartarea profesionala a placii bacteriene din pungile parodontale.
Utilizarea PIEZON® PS le permite medicilor sa indeparteze orice urma de tartru supra si subgingival pana la 10 mm.
Excelenta in profilaxia dentara
cu ajutorul AIRFLOW® Prophylaxis Master by EMS. AIRFLOW® Prophylaxis Master este ultima inovatie a EMS pentru Guided Biofilm Therapy – GBT (Terapia Ghidata a Biofilmului).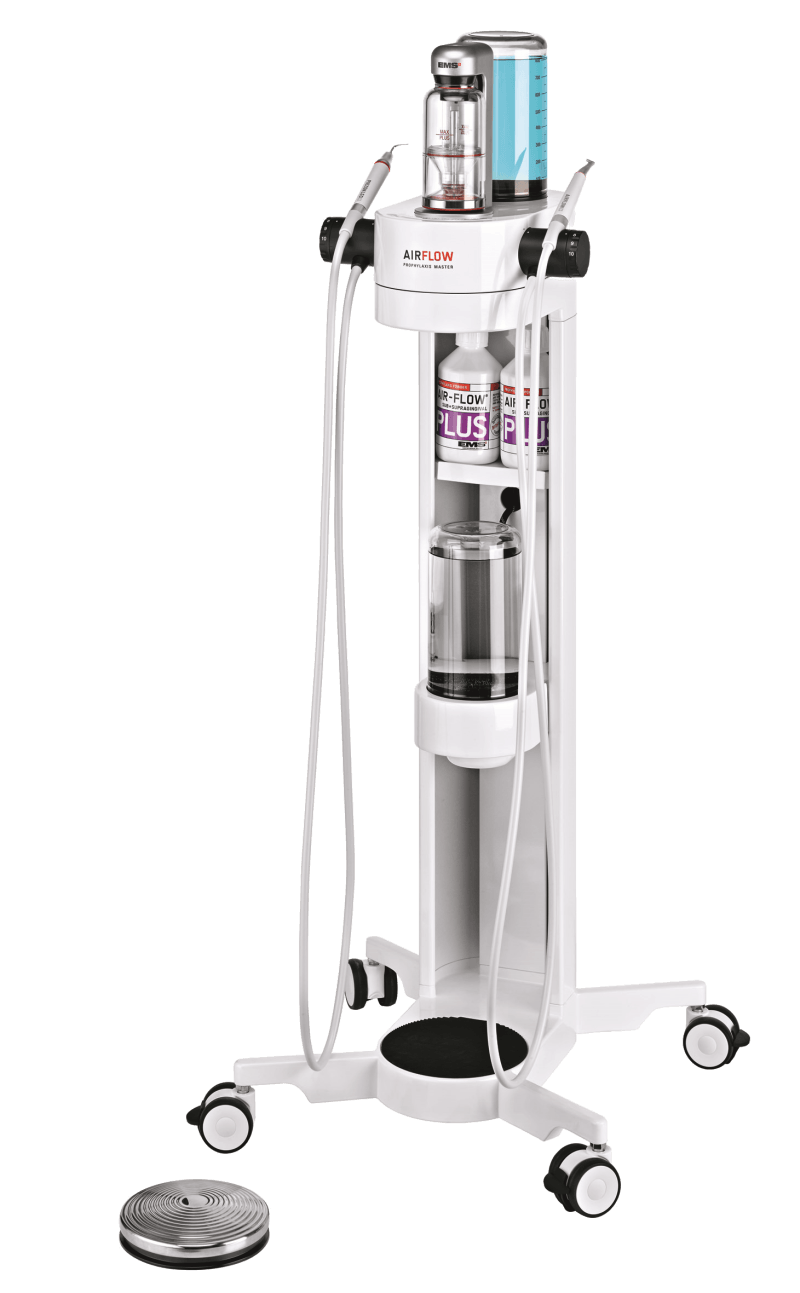 2. Microscop endodontic OPMI® pico Carl Zeiss
Tehnologia dezvoltata special pentru microstomatologie in laboaratoarele Carl Zeiss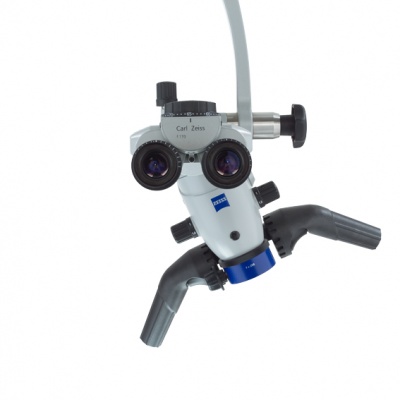 Avantaje:
Redare fidela a celor mai mici detalii necesare in stabilirea diagnosticului si a terapiei
Permite vizualizarea celor mai mici structuri, care nu pot fi vazute cu ochiul liber
Ofera cel mai mare grad de siguranta si precizie, atat pentru pacient, cat si pentru medic
Specificatii tehnice ale microscopului OPMI® pico Carl Zeiss: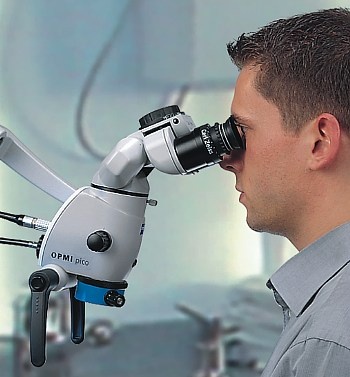 – 5 trepte de marire
– Lentila obiectiv f=250 mm
– Iluminare coaxiala
– Tub binocular inclinat
– Tub binocular cu miscare inainte-inapoi cu 180 grade
– Fibra optica
– Sistem video incroporat
3. Apex locator Root ZX II Morita Japonia

Apex locatorul Root ZX II Morita Japonia este considerat la ora actuala cel mai performant sistem de masurare electronica a lungimii canalelor radiculare. Castigator al premiului Townie Choice Awards® an de an, incepand cu 2003, apex locatorul Root ZX II Morita defineste standardele de performanta, acuratete si siguranta a pacientului.
Lansat in anul 1992 de catre compania J MORITA, a fost primul dispozitiv capabil sa lucreze in canale ude fara a-i fi afectata performanta de masurare de prezenta sau absenta sangelui, electrolitilor etc.
4. Dispozitiv General Electric pentru monitorizare functii vitale pacient
Folosit pentru monitorizarea pacientiilor pe parcursul interventiilor chirurgicale si a tuturor tratamentelor si pacientilor care necesita ingrijire speciala. Dispozitivul integreaza optiuni de monitorizare a celor mai importante functii (EKG, tensiune, puls, saturatia de oxigen, temperatura), oferind insa un maxim de flexibilitate datorita portabilitatii totale.
5. Lampa cu accelerator de albire

Pentru tratamentele de albire dentara, DentalMed a ales sa puna la dispozitia pacientilor sai cel mai eficient sistem de albire existent in acest moment pe piata, numit Accelerator de Albire.
Avantajele folosirii tehnologiei de albire dentara cu lampa acceleratoare: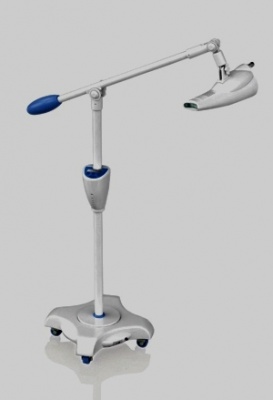 • Actiunea lampii de albire este pe baza de lumina rece, care nu afecteaza tesuturile si smaltul
• Efectele de albire sunt spectaculoase, putandu-se deschide culoarea dintilor in medie cu 8 nuante, insa putand ajunge chiar si pana la 14 nuante, in maxim 3 sedinte de cate 10 minute
• Rezultate remarcabile se obtin in cazul dintilor patati din cauza fumatului sau al consumului de substante puternic colorante, cum ar fi ceaiul, cafeaua sau vinul rosu
• Actioneaza chiar si in cazul dintilor colorati de tratamente cu tetraciclina sau fluorizari
Caracteristici tehnice ale Lampii cu Accelerator de albire:
• Foloseste cel mai avansat Sistem de Filtrare a Luminii, asigurand confortul si siguranta deplina a pacientului
• Lumina ultravioleta si caldura sunt filtrate printr-o lentila optica protejata si peste 12,000 de fibre optice
• Lampa de halogen are o putere de 150 Watt, iar lumina albastra (lumina rece) emisa are o lungime de unda de 480-520 nanometri, permitand obtinerea unor efecte spectaculoase in timp foarte scurt
• Actioneaza la o temperatura mai scazuta decat lampile din aceeasi categorie, determinand astfel o scadere a riscului de sensibilizare a dintilor
6. Aparat de detartaj MINIMASTER® LED with original PIEZON® handpiece LED (Electro Medical Systems – EMS Elvetia)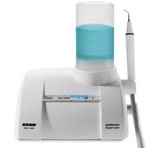 Reprezinta la ora actuala cel mai performant sistem de detartaj existent in domeniul medicinei dentare. Caracteristici:
– este complet independent de scaunul stomatologic
– recipientul pentru lichide se poate folosi pentru apa, hipoclorit, etc.
– poate fi folosit atat in cadrul procedurilor de detartraj, cat si endo, perio, orto etc.
– fibra optica
7. Aparat de inhalosedare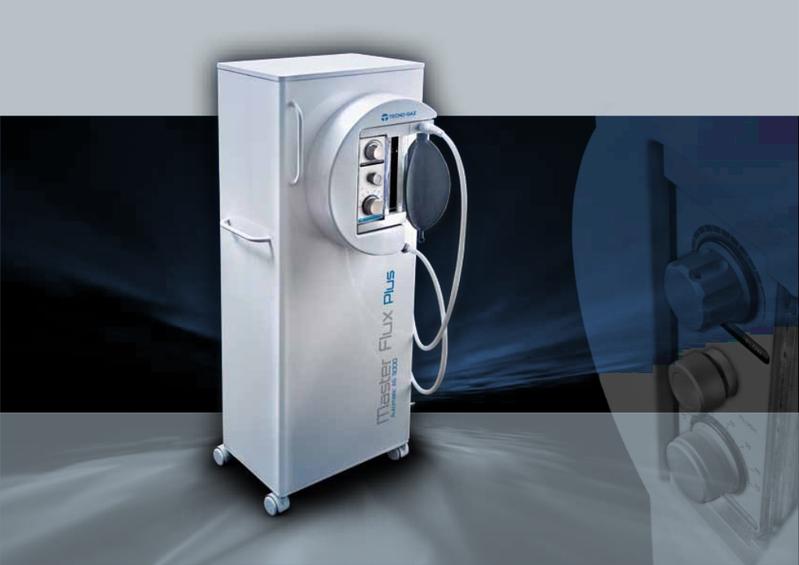 Clinica DentalMed introduce in Romania cea mai moderna tehnica de indepartare a senzatiei de teama si durere a pacientului: inhalosedarea cu protoxid de azot.
Tehnica revolutionara a inhalosedarii cu protoxid de azot presupune parcurgerea urmatorilor pasi:
1. calmarea pacientului prin inhalarea unui amestec de protoxid de azot si oxigen (gaz folosit in operatiunile stomatologice in Statele Unite si in tarile vest-europene)
2. efectuarea tratamentului stomatologic fara durere operatorie
3. disparitia oricarui disconfort fizic creat de aplicarea anesteziei locale clasice
Noutatea acestui tratament consta în folosirea protoxidului de azot, un gaz care combinat cu oxigenul produce un efect calmant asupra pacientului, care astfel nu va mai resimţi nicio senzaţie de teamă. Dupa terminarea tratamentului, medicul intrerupe administrarea protoxidului de azot si administreaza pacientului pentru un interval de cateva minute doar oxigen, pentru eliminarea din organism a substanţei inhalate.
In clinica noastră, toate interventiile care necesită metode speciale de sedare sunt monitorizate permanent de un medic specialist anestezist.
DentalMed foloseşte cel mai performant sistem de administrare a protoxidului de azot şi avizat de European Dental Association (EDA) si American Dental Association (ADA), cele mai prestigioase asociatii stomatologice din lume.
8. Aparatura de sterilizare:
Autoclave Euronda E9 NEXT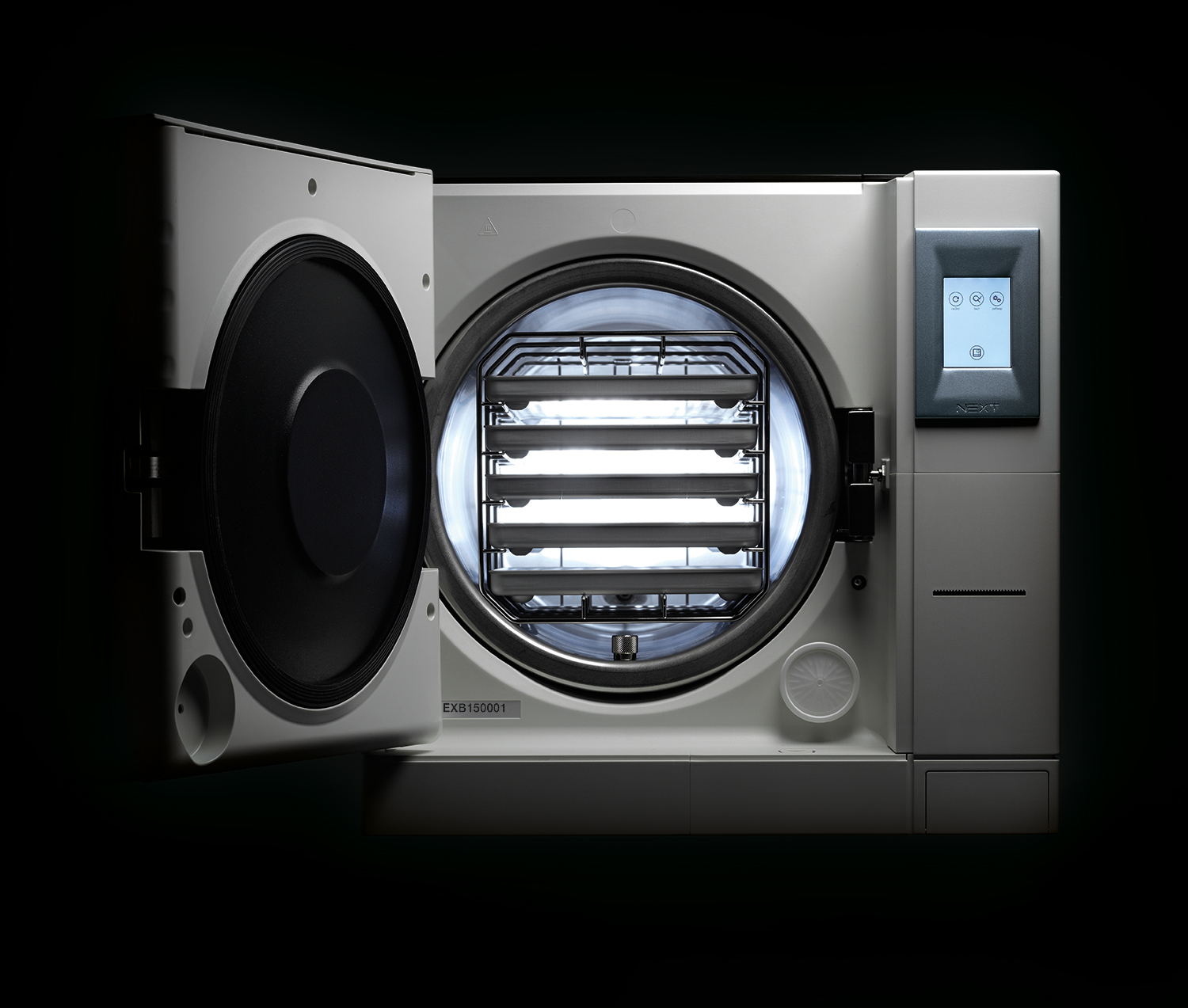 SciCan STATIM 5000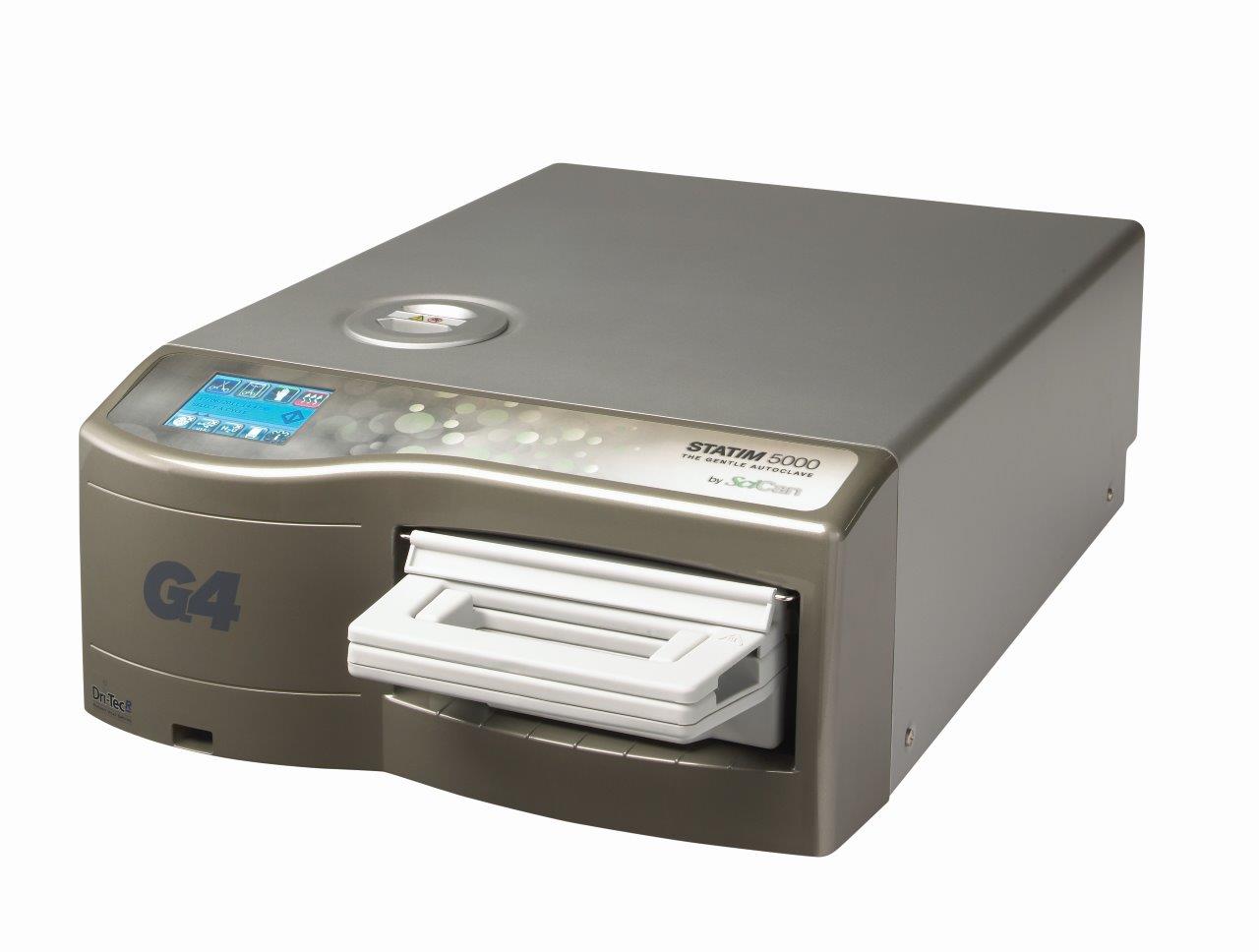 NSK Autoclave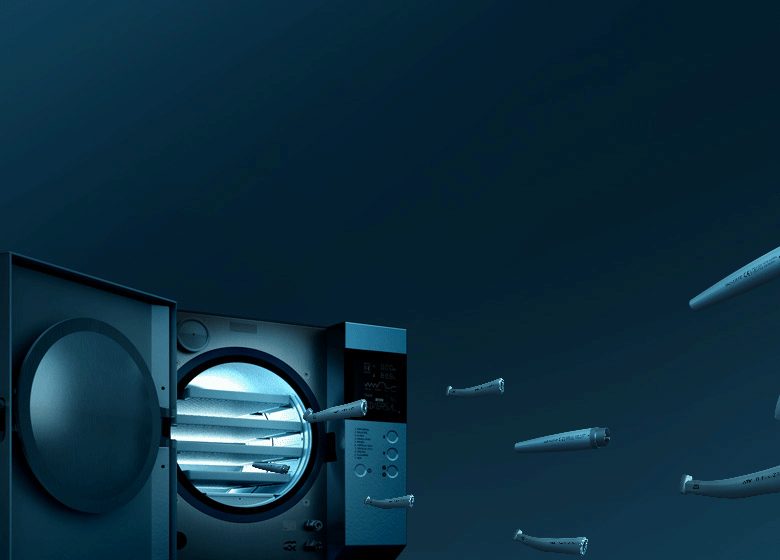 9. Laser dentar SIRONA SIROLASE BLUE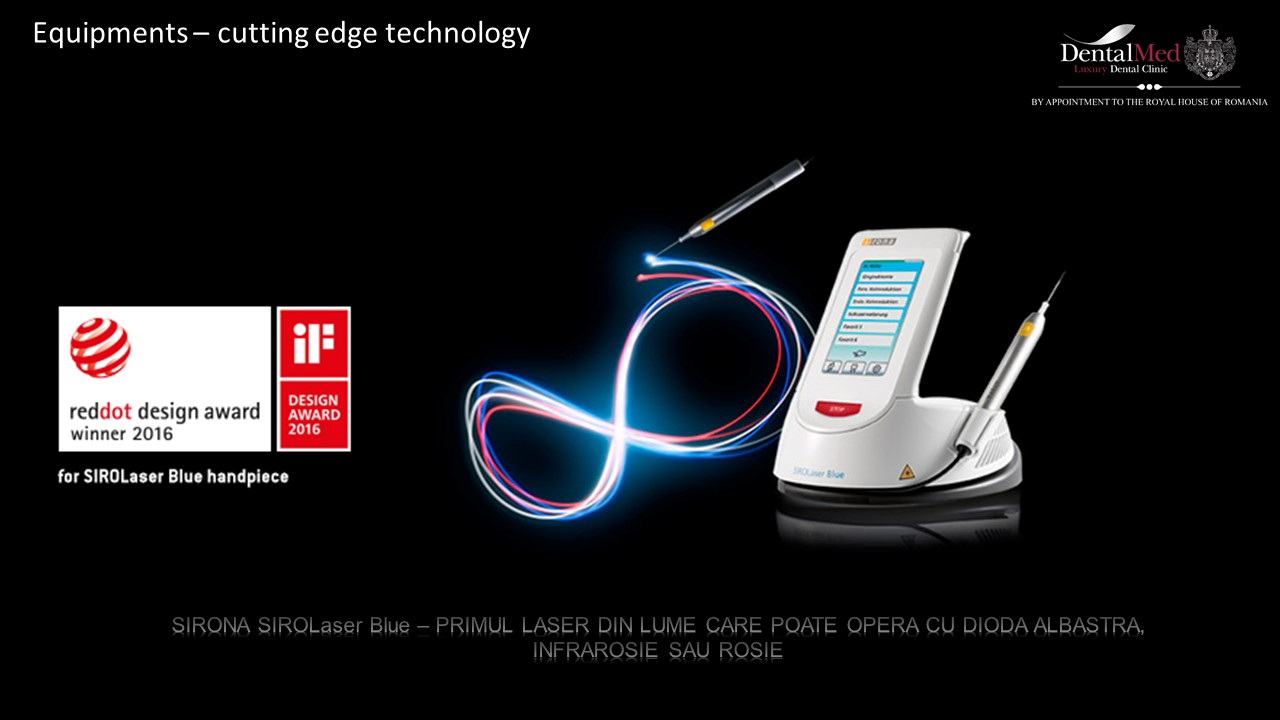 10. Fiziodispenser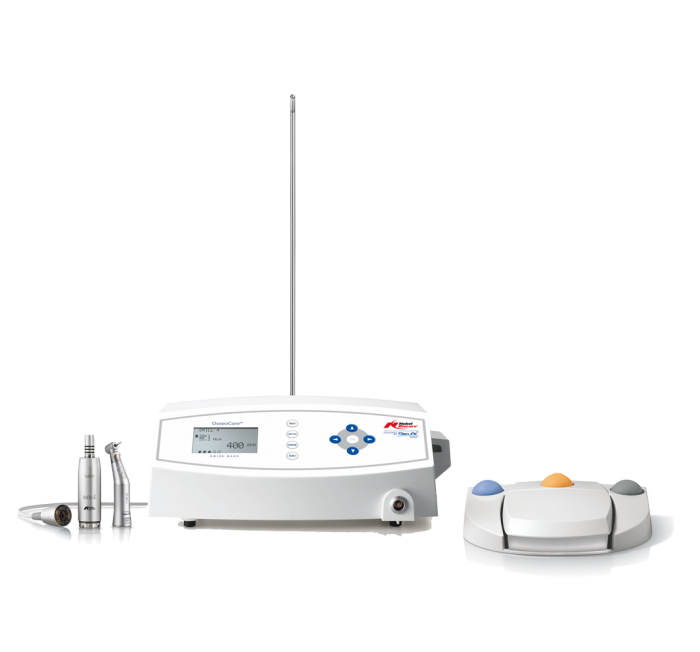 Fiziodispenserul este un aparat conceput pentru manoperele chirurgicale de implantologie, dar este utilizat si in cursul altor interventii de chirurgie orala.
Clinica are in dotare doua dintre cele mai performante fiziodispensere existente la acest moment in lume: modelul Implantmed al firmei W&H si modelul Osseocare PRO.
OSSEOCARE PRO – MAI MULT DECÂT UN FIZIODISPENSER
OsseoCare Pro se operează integral printr-o interfața intuitivă, cu ajutorul dispozitivului iPad de la Apple.
Printr-o aplicație dedicată, se poate controla în timpul intervenției chirurgicale coordonate precum viteză, cuplul de forțe (torque), volumul de irigare sau intensitatea luminii.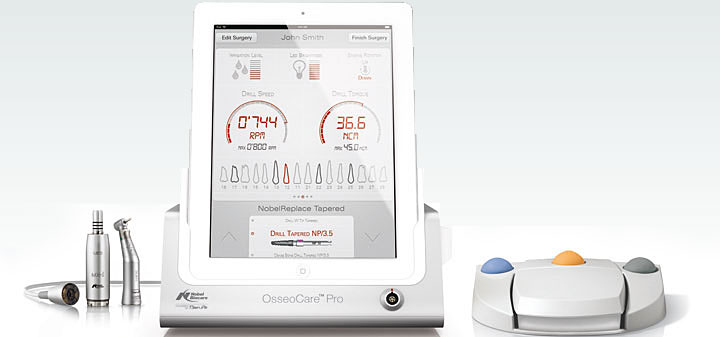 11. Camera intraorala
Ati incercat probabil de multe ori sa apreciati singuri starea sanatatii dumneavoastra dentare, insa chiar si cu ajutorul oglinzii nu ati reusit. Camera intraorala a schimbat insa acest lucru. Acum puteti sta confortabil in fotoliul dentar si sa vizualizati pe monitor imaginea marita si in culori reale a dintilor si a gingiilor dumneavoastra. Folosind un dispozitiv de forma unui creion, ce are in varf o minicamera video, medicul observa cariile, dintii fracturati, coloratiile, integritatea obturatiilor ("plombe"), prezenta placii bacteriene, stadiul de inflamatie al gingiilor. Imaginile surprinse sunt afisate pe monitor si va ajuta sa intelegeti mai bine care este starea de sanatate a dintilor dumneavoastra, pentru a discuta impreuna cu medicul planul de tratament. De asemenea, puteti urmari progresele facute in timpul tratamentului.
Este o procedura nedureroasa si care nu are efecte adverse. Dispozitivul folosit este acoperit cu un invelis din plastic de unica folosinta.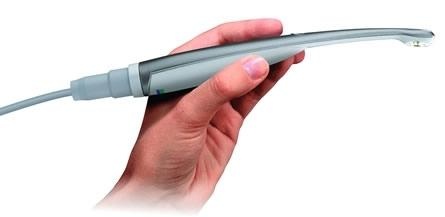 12. PentamixTM Automatic Mixing Unit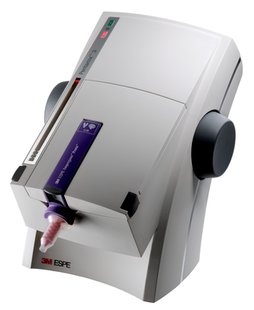 Este cel mai nou si mai performant echipament pentru malaxarea si dozarea automata a materialelor de amprenta PentaTM, apartinand producatorului 3M. Beneficii:
– Viteza de amestecare de doua ori mai mare decat a altor echipamente existente pe piata
– Amestecare omogena fara bule de aer, prin simpla apasare a unui buton
– Dozare exacta de fiecare data
– Calitatea materialului este constanta si reproductibila
– Deschidere automata a rezervelor de material
13. LAMPA FOTOPOLIMERIZARE VALO CU FIR – 5919
Lampa de fotopolimerizare, utilizabila in cazul oricarui material fotopolimerizabil.
Noua lampa de fotopolimerizare VALO ofera o combinatie unica intre tehnologie si design!
VALO are trei moduri de lucru: 1000mW (Standard), 1400mW (High Power) si 3000mW (Plasma Emulation),
asigurand puterea necesara fotopolimerizarii rapide, sigure si eficiente.
Un timp redus de fotopolimerizare previne riscul supraincalzirii tesuturilor dentare.
VALO fiind o lampa cu fir, are aceeasi putere maxima la fiecare utilizare, spre deosebire de lampile cu baterii, unde puterea variaza cu nivelul de incarcare a acestora.
14. DENTAPEN – dispozitiv computerizat pentru anestezie locala
DentaPen este un produs elvetian, ergonomic, usor si foarte practic, urmatorul pas in anestezia dentara.
Cu un design diferit de cel al unei seringi clasice, DentaPen permite realizarea unei anestezii, fara durere, ajutand astfel la cresterea satisfactiei si increderii pacientului in actul medical.
Injectarea automata, si posibilitatea de reglare a vitezei, reduc din timpul petrecut in cabinet, un plus foarte mare, apreciat mai ales de micii pacienti.
Un alt aspect apreciat de cei mici este forma, designul, care nu mai duc cu gandul la seringa, ac sau intepatura, reducand foarte mult din teama pe care o au in cabinet, crescandu'le complianta in viitoarele tratamente dentare.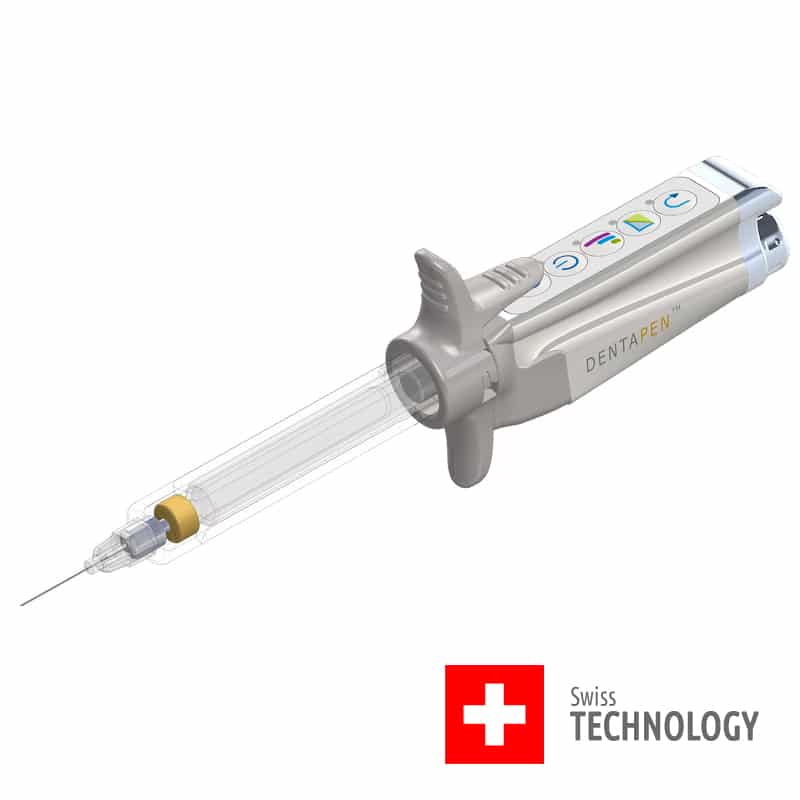 15. CEREC Omnicam – Scanning simplicity. Scanner intraoral
Design-ul revolutionar al noului scanner CEREC Omnicam ofera o piesa de mana completa noua, ergonomica, precum si optica speciala pentru a garanta un acces intraoral de neintrecut. Noul Color Streaming permite captura continua a cavitatii orale precum si afisarea datelor 3D in full color – o premiera in industrie. Confortul operatorului a fost mult imbunatatit prin realizarea sistemului complet fara pudra dar mentinand standardele inalte de precizie ale firmei Sirona.
Proiectat pentru accesibilitate
CEREC Omnicam se potriveste perfect in mana utilizatorului. Fiind subtire, tubul rotund al camerei permite rotirea facila in spatiul intraoral, chiar si in zone posterioare. Varful mic al camerei garanteaza cea mai buna pozitie a lentilei oriunde in cavitatea orala.
Streaming color pentru un nivel ridicat de incredere
Pe masura ce camera sa misca deasupra dintilor, o imagine realista este afisata in full color avand o claritate impecabila pana la cel mai mic detaliu oferind un nou nivel de incredere din punct de vedere clinic. Suprafetele sunt afisate in nuantele lor naturale, facand distinctia clara intre amalgam, aur sau compozit. Ofera o diferentiere clara intre linia gingiei si pragul de preparare.
Fara pudra pentru comoditate
Faptul ca nu este nevoie de aplicarea pudrei antireflex face ca inregistrarea imaginii sa se faca mai usor si mai repede ca niciodata. Se plaseaza camera pe zona relevanta iar scanarea incepe automat.
16. Nebulizator Biospray ULV Fogger
Nebulizarea este cea mai eficienta metoda de dezinfectare a aerului din lume. Indicele de eficienta calculat prin reducere logaritmica este 6 Log si reprezinta valoarea maxima a procesului de dezinfectare a unei incaperi.
6 Log indica faptul ca numarul de microorganisme care raman in urma procesului de dezinfectare prin nebulizare este 1 din 1.000.000.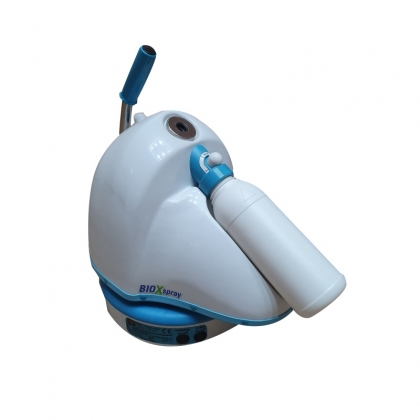 17. Nebulizator H05 ULV Fogger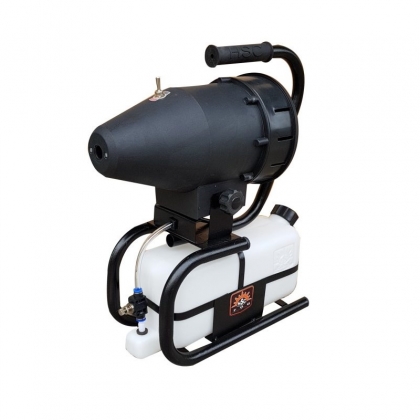 18. Nebulizator NOCOSPRAY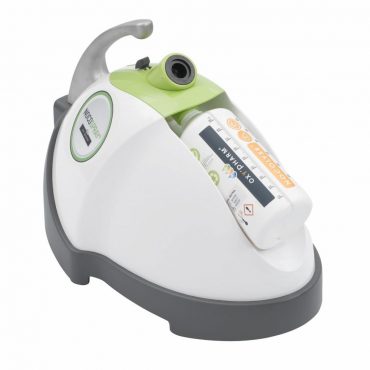 19. Aparat dezinfectie cu abur si biocid HYGIENIO
20. Sistem de aspiratie a aerosolilor.
Dispozitivul este utilizat pentru a spira si purifica aerosolilor bacterieni care se degaja in timpul manoperelor stomatologice in incaperea in care se desfasoara tratamentul dentar. Riscul la care sunt expusi pacientii si personalul medical (medicii stomatologi si asistentele de stomatologie) atunci cand se realizeaza proceduri generatoare de aerosoli (igienizari dentare, slefuiri, etc.) scade foarte mult atunci cand se folosesc aceste dispozitive de aspiratie a aerosolilor. Aspiratoarele pentru aerosoli sunt dotate cu filtre Hepa si carbon, iar la final aerul este sterilizat cu ajutorul cu lampii cu lumina ultravioleta, astfel incat la finalul procesului de aspirare si dezinfectare aerul se va evacua curat si sterilizat înpoi în încăpere.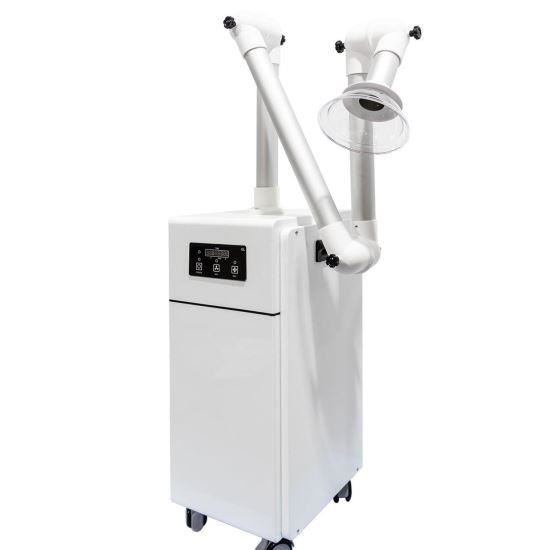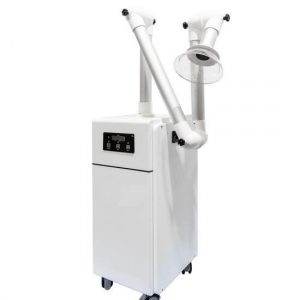 21. Termometru non-contact pentru masurarea de la distanta a temperaturii corporale a pacientilor.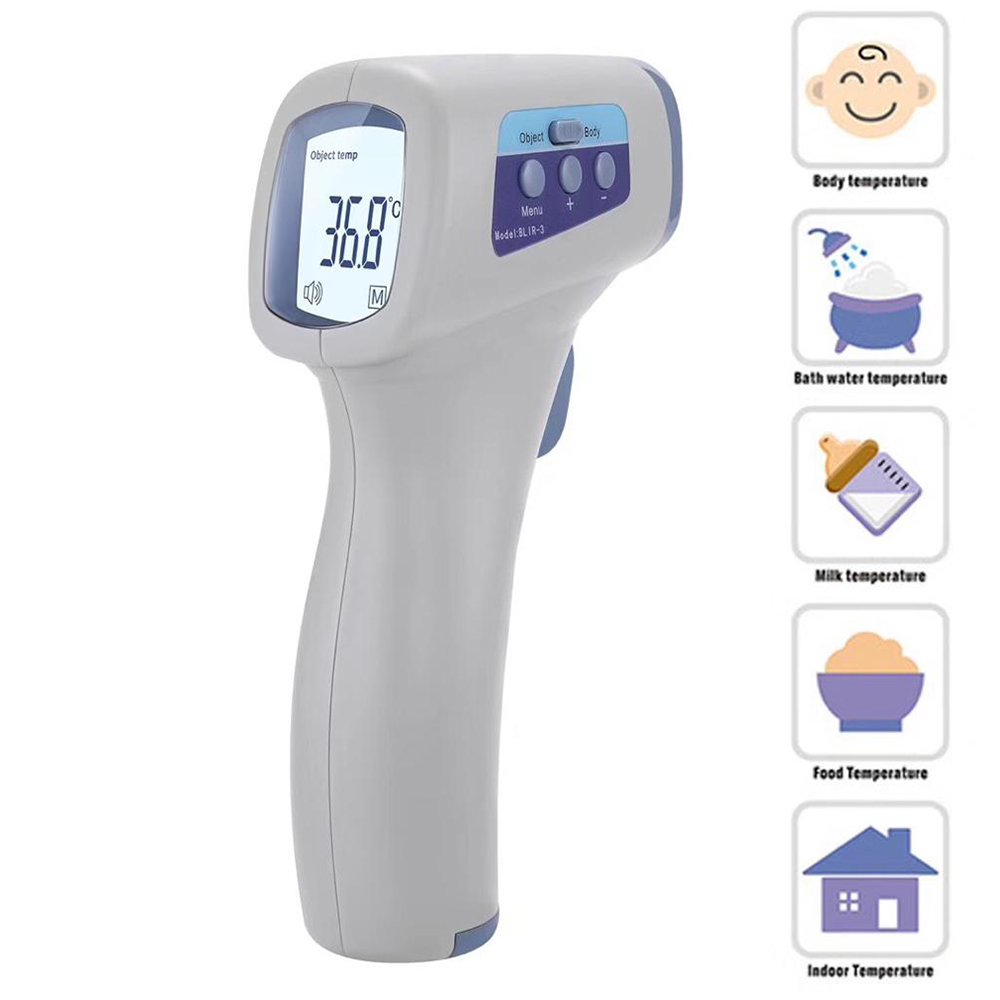 22. Lampile UV – C PULSAR TECH
Ce este UV-C?
UV-C inseamna radiatie ultravioleta din gama C, adica cea mai scurta lungime de unda sau
cea mai inalta frecventa din spectrul de lumina ultravioleta.
Aparatele oferite de Pulsar Tech distrug sau in anumite cazuri inactiveaza toate tipurile de
microbi, virusi si sporii de mucegai.
Timpul de dezinfectie depinde de puterea aparatului in relatie cu distanta la care este
pozitionat fata de suprafata. Intervalul necesar procesului de dezinfectie variaza intre 5-60
minute.
Lampile UV PULSAR TECH prezinta performante remarcabile in termen de eficienta a procesului de dezinfectie a aerului si suprafetelor, o adevarata minune tehnologica. Printre avantajele produsului:
Reduce considerabil timpul de dezinfectie
Asigura un grad ridicat al
eficacitatii procesului de dezinfectie
Usor de curatat
Previne expunerea prin detectia
prezentei umane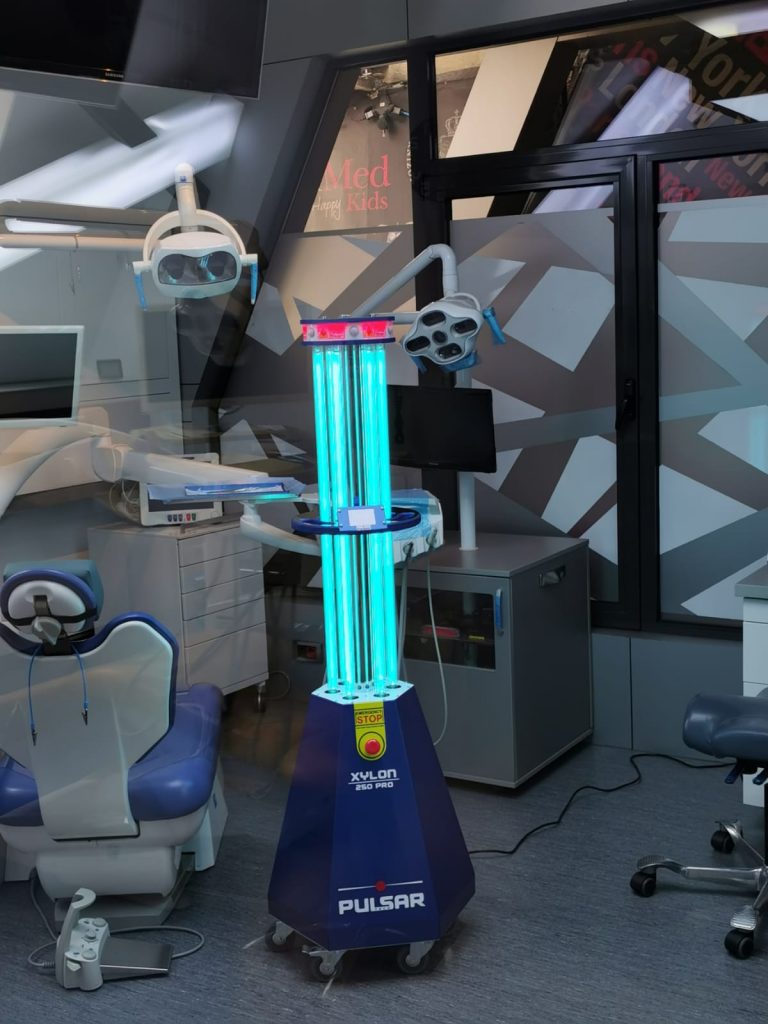 23. Masca contra gazelor si aerosolilor solizi si lichizi cu vizor panoramic pentru uz militar si aparare civila (echipament de protectie pentru medici si asistente in perioada SARS-COV-2)
Numita in mod eronat masca de gaze, este o protectie impotriva anumitor tipuri de arme: chimice, biologice si radiologice. Aceasta este purtata pe fata pentru a apara intrarile cailor respiratorii (gura, nas) si ochii precum si alte tesuturi sensibile ale fetei.
Masca de protectie contra gazelor consta dintr-o masca si un filtru, aceasta fiind un aparat de respirat cu aer purificat, spre deosebire de aparatele de respiratie. Eficienta pentru a filtra substantele toxice din aer (de exemplu, clor), aerosoli lichizi sau solizi si tipuri de impuritati biologice: bacterii, virusuri, toxine sau spori.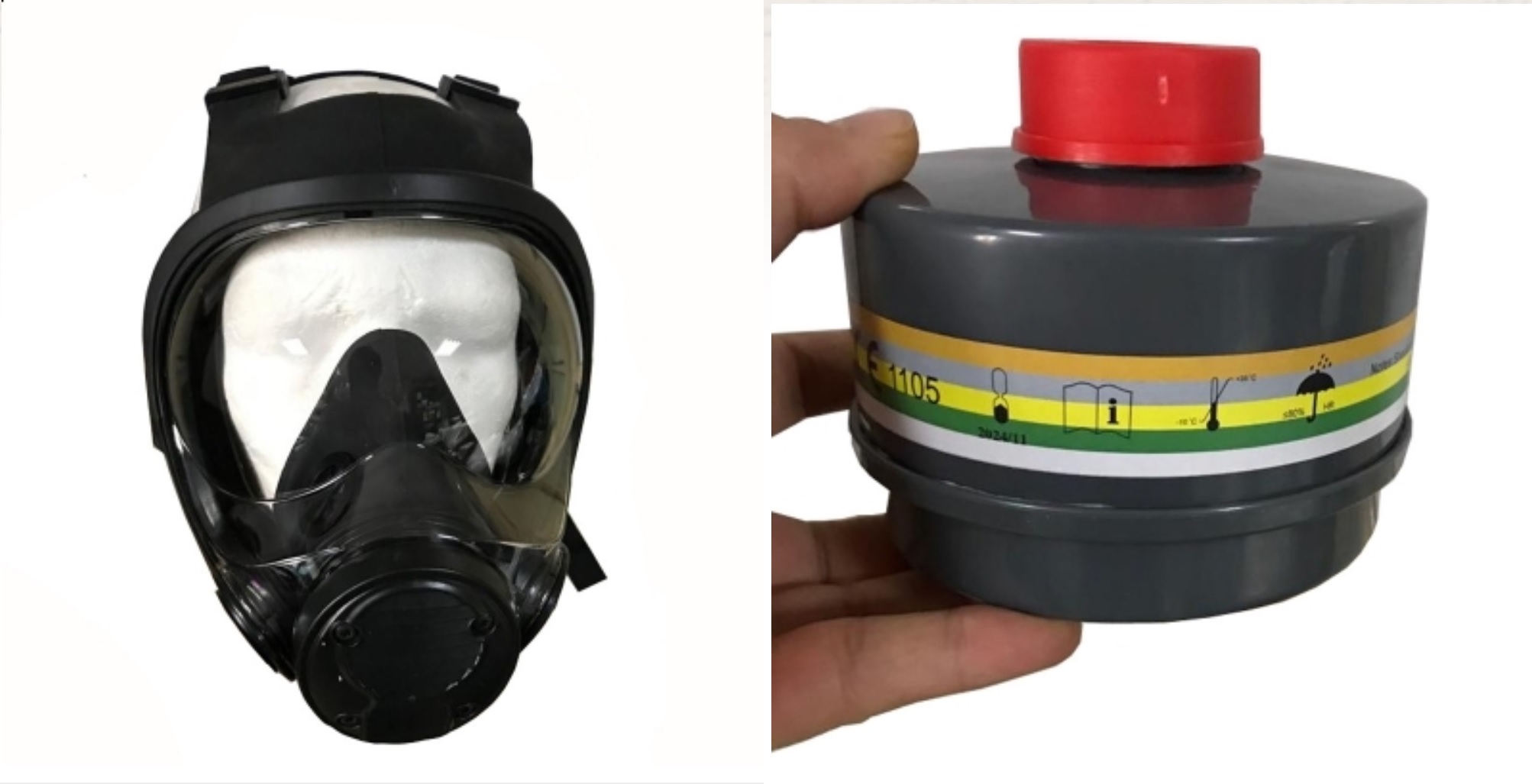 In perioada pandemiei de SARS-COV-2 echipa medicala DentalMed foloseste pentru urgente stomatologice mastile militare contra gazelor si aerosolilor lichizi, pentru protectia fetei (nas, gura, ochi – mucoase). Nivelul de siguranta si filtrare este mult superior mastilor cu filtrare superioara recomandate ca EPP anti-covid in cabinetele de stomatologie (FFP2/N95/KN95), FFP3, etc.)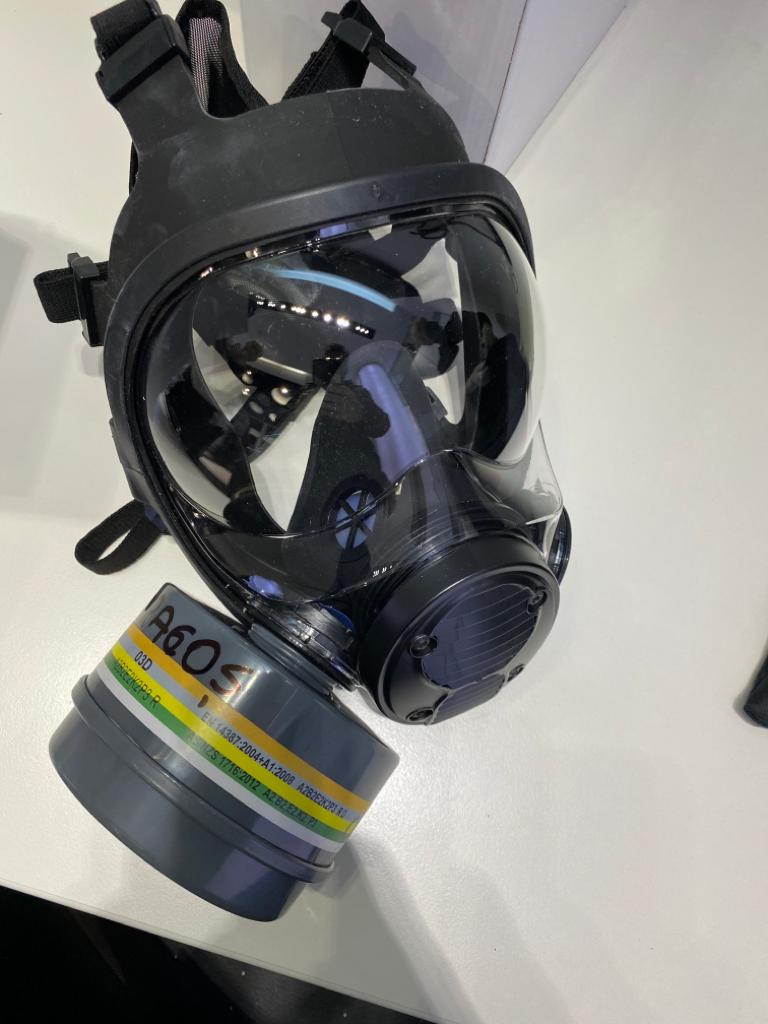 23. Masti cu filtrare superioara: KN95, FFP2, FFP3, FFP2 cu ochelari, FFP3 cu ochelari
24. Cizme din PVC pentru protectia personalului medical impotriva Coronavirus (EPP DentalMed anti-covid)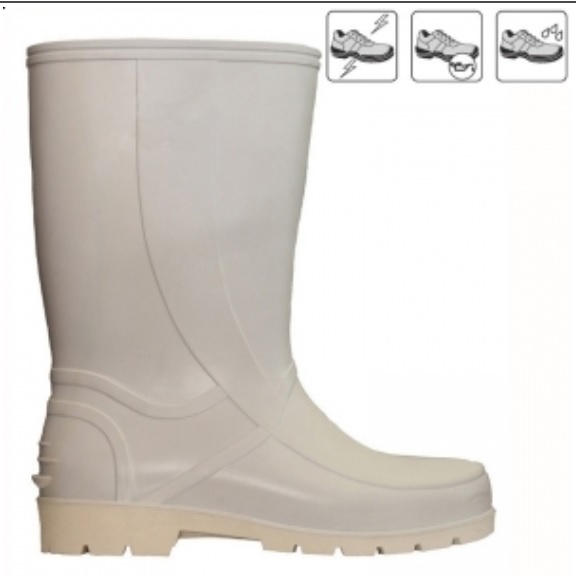 25. Echipare completa medic/asistenta anti-coronavirus: combinezon de unica folosinta, masca contra gazelor si aerosolilor solizi si lichizi cu vizor panoramic pentru uz militar si aparare civila, cizme PVC anti-covid, 3 seturi de manusi suprapuse, halat de unica folosinta (pe sub combinezon), capelina (pe cap, sub gluga).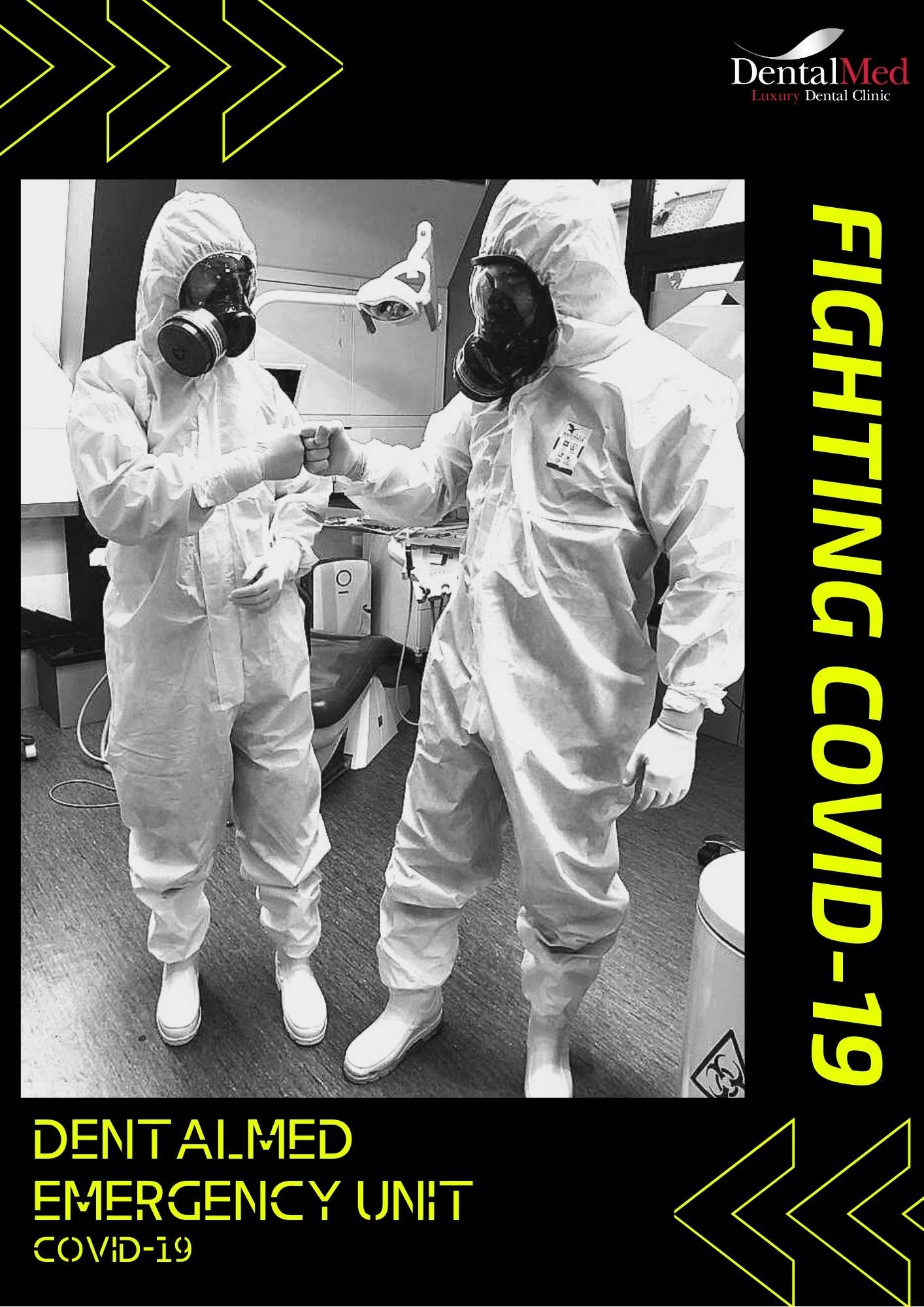 26. PORTAL DECONATAMINARE Anti COVID-19
Portalul ajuta in prevenirea contaminarii cu virusul SARS-COV-19 prin atomizarea substantei biocide dezinfectante prin intermediul duzelor actionate pe baza de senzori.
Portalul De Decontaminare Anti-Covid19 este un dispozitiv tehnologic inovativ, folosit la DentalMed in premiera intr-o clinica stomatologica din Romania. Inca de la debutul pandemiei, DentalMed a reprezentant un etalon in medicina dentara romaneasca privind siguranta la nivel de masuri exceptinale anti-covid. Portalul de Decontaminare Anti-COV19 este cea mai recenta actiune adaugata de clinica DentalMed in seria masurilor de combatere a raspandirii noului coronavirus.
Poarta de Decontaminare Anti-COV19 asigura dezinfectarea cu eficienta maxima a pacientilor, personalului si vizitatorilor, inainte de intrarea in clinica. Substantele biocide speciale sunt atomizate prin intermediul sistemului de duze, care asigura o dispersie uniforma a dezinfectantului pe intreaga suprafata a corpului persoanei aflate in raza de actiune a portalului. Actionat pe baza senzorilor, operarea portalului se face independent de un operator uman, iar substantele biocidele utilizate sunt sigure atat pentru adulti, cat si pentru copii. Procesul de decontaminare este rapid, usor de parcurs si extrem eficient.
Dotari imagistica dentara
Clinica stomatologica DentalMed are in dotare cea mai moderna aparatura stomatologica. Va prezentam cateva dintre echipamenetele noastre:
1. Computer Tomograf Veraviewpocs 3D MORITA Japonia –NOU!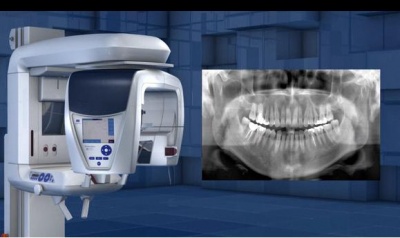 Clinica DentalMed foloseste pentru intreaga gama de investigatii radiologice Computer Tomograful Veraviewepocs 3D, apartinand producatorului japonez MORITA, leaderul mondial in domeniul tehnologiei dentare.
Acesta este cel mai nou aparat lansat de compania MORITA pentru imagistica dentara, tehnologia revolutionara inglobata conducand la obtinerea unor performante de neegalat: CEL MAI BUN RAPORT intre Calitatea Imaginii Investigatiilor Radiologice/Nivel Minim de Radiatii Pentru Pacienti si pentru personalul clinicii.
Mai multe detalii despre Computer Tomograf Veraviewpocs pe pagina de radiografie dentara.
2. Sistemul radiologie intraoral Kodak Carestreem CS 2200
Sistemul radiologie intraoral Kodak CS 2200 este conceput pentru obtinerea unor radiografii dentare retroalveolare de performanta superioara, in conditii de siguranta maxima. Compact si usor de folosit, ii permite utilizatorului selectarea rapida a setarilor de expunere. Generatorul de inalta frecventa asigura obtinerea unei radiografii de inalta calitate cu un timp limitat de expunere la radiatii. Generand cu 30% mai putine radiatii decat aparatele conventionale, sistemul CS 2200 determina automat doza optima pentru pacient.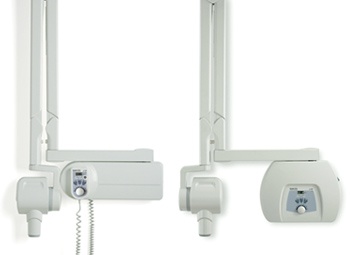 Specificatii:

• Indica maximum de detalii cu doza minima de radiatii pentru pacient
• Indica dintii si structura lor anatomica cu o magnificare sau distorsiune minima
• Permite setarea densitatii si a contrastului optime in vederea depistarii afectiunilor dentare
• Timp de expunere mai mic ce reduce riscul distorsionarii radiografiei dentare in timpul expunerii
3. Aparat portabil de radiologie PORT-X II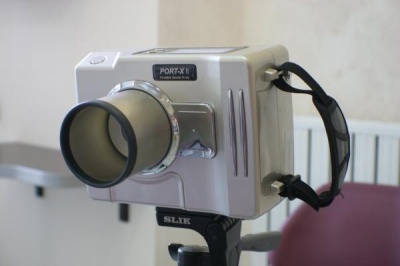 Aparat portabil de radiografii,modelul PORT-X II al firmei Genoray
Iradierea la acest tip de aparat este minima, iar folosirea unui sort de protectie din plumb pentru pacient, face ca radiatia sa fie aproape zero.
Se pot realiza atat radiografii cu film, cat si radiografii digitale, care se vizualizeaza pe monitorul LCD (intra in componenta unitului dentar).
Pentru mai multe detalii, va invitam sa vizitati adresa de web a producatorului