apparecchiatura tecnica
Dental clinic DentalMed is fitted with the most modern dental treatment equipment. Here are a just few of the devices our doctors work with:
1. Computer Tomograf Veraviewpocs 3D MORITA Japan –NEW!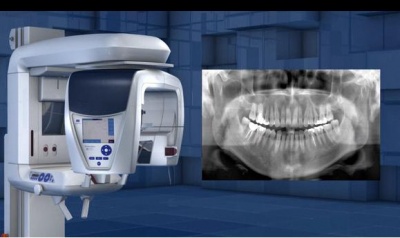 Veraviewepocs® 3D is a state-of-the-art panoramic X-ray unit that offers digital panoramic and 3D imaging options. High in resolution and low in X-ray exposure, it offers easy positioning and image manipulation, versatile image processing, and brilliant, distortion-free 3D images, even at the optional Ø 80 x H 80 mm size.
These high resolution 3D images are perfect for a wide range of uses in patient diagnosis such as implant planning, apical lesions, TMJ evaluation, and impacted teeth. Veraviewepocs 3D also offers a "true" panoramic image, not a reconstruction.
NEW Dose Reduction Feature
Veraviewepocs 3D, and all of Morita's 3D units, now come automatically equipped with a new Dose Reduction Feature for increased patient protection.
The Dose Reduction Feature is rooted in how the machines acquire information. Through advanced engineering, the intensity of the X-rays has been optimized which decreases the overall level of emissions. Dosage has been reduced 30% to 40% on all three-dimensional fields of view. Maximizing the efficiency of the machines has also resulted in sharper images of soft tissue with fewer artifacts. Dose Reduction now comes standard on every 3D unit Morita sells with no retail price increase. Existing models can also be upgraded with this new feature with minimal if any, part replacement.
2. Endodontic microscope OPMI® pico Carl Zeiss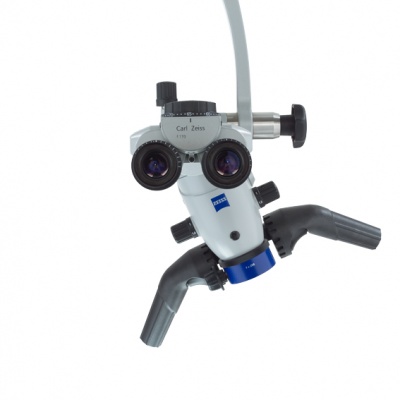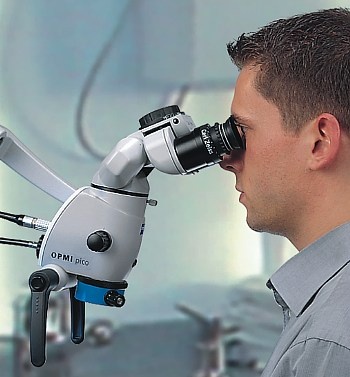 3. Apex locator Root ZX II Morita Japonia

As the world's best selling apex locator, Root ZX II has set the industry standard for accuracy and patient safety.
Invented in 1992, it was the first unit with the ability to work in wet canals – measurement is not affected by the presence or absence of blood, other discharges, or electrolytes. Root ZX® II features patented technology which offers an accuracy rate of 97.5%*. User friendly, its display screen is large and easy to read. The action of the meter in the display corresponds exactly to the tactile sensation of using the file. Other features include: slim, lightweight file holder, no zero-adjustment, automatic calibration, battery power indication, and automatic power off function.
Townie Choice Awards®
8 Years in a Row!
Winner 2003-2010, Apex Locator Category
4. General Electric Patient Monitor
* The B30 Patient Monitor is designed with comprehensive parameters and the latest GE measurement technologies for accurate and reliable patient monitoring
* The modular design of the B30 Patient Monitor enables optimized monitoring, especially in recovery and intra-hospital transport
* An innovative alarm system offers preset alarm limits for different parameters, and adjusts the alarms in critical situations by sensing the duration, severity and the combination of different alarms
* Innovative docking solution allows E-PSM(P)W* to travel anywhere with the patient
* Comprehensive package of hemodynamic measurements – ECG, NIBP, GE Datex-Ohmeda SpO2, Impedance Respiration and 2 temperatures
5. The clinic uses the latest Siemens and Stern Weber dental units.

Features: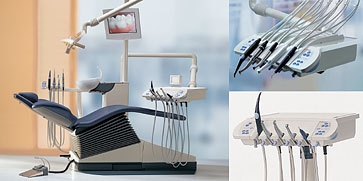 Functionality:
– optic fiber, enabling the best view of the teeth and of the soft parts
– clearly structured control panel with handpiece intensity indicators
– two lighting systems
– foot control for the main functions
– LCD display with viewing options for intraoral camera images as well as for digital x-rays.
Ergonomics:
– ideal for both two-handed and four-handed treatment
– adapted to the requirements of right-handers and left-handers thanks to the swivelling water unit and rotatable chair
Infection Control
– Built-in disinfection unit
– All critical components can be removed and disinfected
– Smooth, easy-to-clean and disinfect surfaces
– No contact between suction hoses and floor
For further details, please see the manufacturer's web address.
6. The BEYONDTM Whitening Accelerator

Absolute NOVELTY – THE MOST EFFICIENT WHITENING TECHNIQUE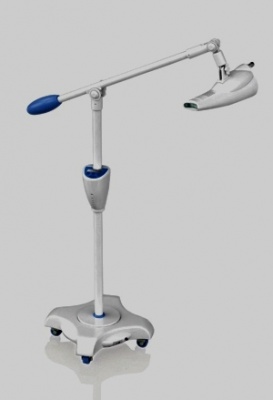 Advanced Technology Ensures Safety, Comfort, and Results
• Most advanced light filtration system of any power whitening system ensures patient safety and comfort
• Harmful ultraviolet light and heat are filtered out through a coated optical lens and over 12,000 optical fibers
• Powerful 150 watt halogen bulb emits a high-intensity blue light (480-520 nanometers wavelength) for faster whitening results
• Operates at a lower temperature than similar products, increasing patient comfort levels and decreasing the risk of developing tooth sensitivity
Superior product by all means:
• Chair-side, cold-light, power whitening accelerator lamp
• Whitens teeth between five to 14 shades, with an average improvement of eight shades, in three consecutive 10 minute sessions
• Very effective for teeth that have been stained by smoking or by consuming staining substances such as coffee, tea, or red wine
• Also whitens teeth discolored by certain medicines, such as tetracycline, or speckled by fluoride
7. Aparat de detartaj MINIMASTER® LED with original PIEZON® handpiece LED (Electro Medical Systems – EMS Elvetia)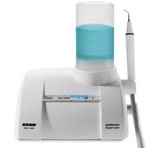 The MiniMaster® is a multifunctional stand alone ultrasonic scaler.
Features:
MULTI-FUNCTIONAL – SCALING, PERIODONTAL, ENDODONTIC, RESTORATIVE PORTABLE – STAND ALONE WATER SUPPLY WITH 350 ml OR 500 ml BOTTLE
PATIENT FRIENDLY – REFINED ELECTRONIC EQUIPMENT WITH MICROCONTROLLER

8. PORTER Nitrous Oxide Sedation Systems
The DentalMed clinic introduces in Romania the latest technology which helps fight patient's fear and pain: inhalation sedation with nitrous oxide.
The revolutionary technique of inhalation sedation with nitrous oxide presupposes going through the following stages: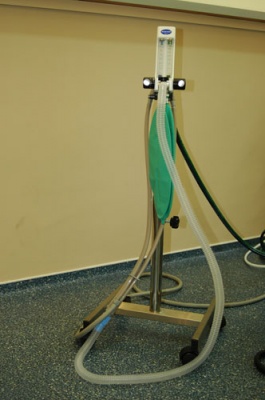 1.calming the patient through the inhalation of a mixture of nitrous oxide and oxygen (this gas is used in dentistry operations performed in the United States and in Western Europe)
2.performing the dental treatment without any operating pain
3. disappearance of any physical discomfort caused by classical, local anesthesia
The novelty of this treatment consist of the use of the nitrous oxide, a gas used in conjunction with pure oxygen to relax patients who have dentistry related anxiety. When inhaled and absorbed into the body, nitrous oxide has a natural calming effect that lasts only as long as the dental procedure.
When the treatment is over, the doctor discontinues the supply of nitrous oxide and the patient will only inhale oxygen for a few minutes, to eliminate the effects of the previously inhaled substance from the body.
At our clinic, all interventions requiring special sedation methods are permanently monitored by an anesthetic specialist.
DentalMed uses the highest performance nitrous oxide sedation system, manufactured by the American company PORTER and certified by European Dental Association (EDA) and by American Dental Association (ADA), the most prestigious dental associations in the world.
Detailed information about the nitrous oxide sedation can be found here.
For further details on Nitrous Oxide Sedation System, please access the manufacturer's web address.
9. Sterilization Equipment
Euronda autoclave model E9 + autoclave bag sealing device + distillator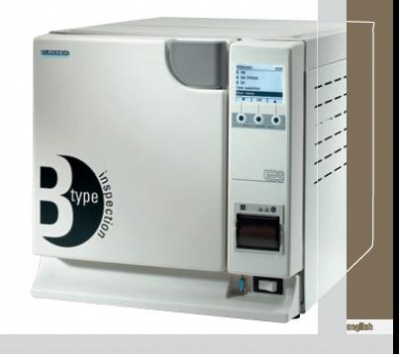 Features:
– B type, automatic autoclave
– microprocessor- based electronic control
– 3 sterilization programs (121oC, 134oC, 134oC Prion)
– incorporated printer
– automatically stops at the end of each sterilization cycle
– automatic fresh water loading
– PED certified stainless steel sterilization chamber

3 sterilization control TESTS: Vacuum, Helix and Bowie&Dick
For further details, please see the manufacturer's web address.
10. Endodontic Appliance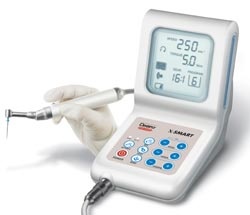 X-Smart model manufactured by
Dentsply Maillefer
9 program selection, each allowing the setting of speed, torque and auto- reverse mode. Can be used with any nickel titanium rotary needle system.
The endodontic appliance allows widening canals based on rotary needle systems, which are more efficient than classic canal needles.
For further details, please see the manufacturer's web address.

11. Apex Locator
ProPex model manufactured by Dentsply Maillefer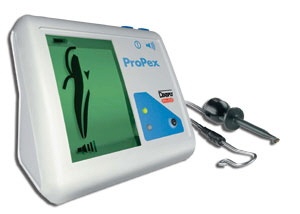 The apex locator is a device allowing the accurate electronic measurement of the length of root canals.
Knowing the precise length of root canals is extremely important for the endodontic treatment (of root canals), given that its success depends on the perfect sealing of root canals, along their entire length.
ProPex enables the immediate measurement of the working length, irrespective of the medium inside the canals, as well as viewing the movements of the needle inside the canal.
The best of visibility is attained due to the position of the display.
For further details, please see the manufacturer's web address.
12. Physiodispenser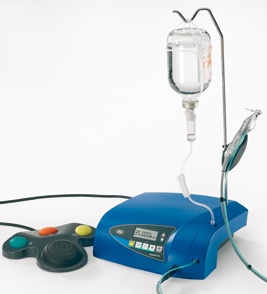 The physiodispenser is a device designed for surgical implant operations, but it is used during other oral surgery interventions as well.
The clinic is fitted with the most competitive physiodispenser models: Implantmed, manufactured by W&H and Aseptico, manufactured by SDD.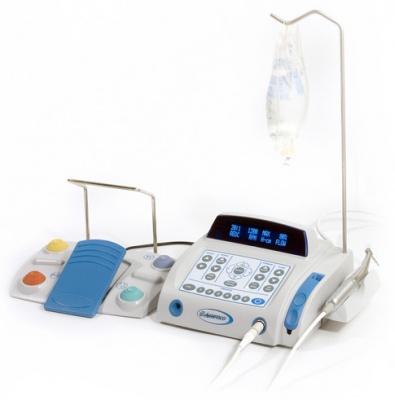 Both models have an incorporated microprocessor, which controls the speed and torque of the micro motor so that they can be maintained at the same level or changed, as needed. The electronic control of parameters ensures the accuracy and safety of operations. There are six memory programs that record settings.
13. Intraoral camera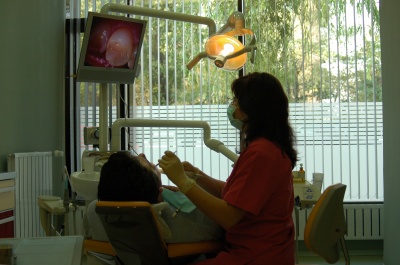 You have probably tried many times to assess your own dental health status on your own, but failed to do it, even if you used a mirror. Now that intraoral cameras exist, things have changed. You can lie back comfortably in your chair at the dentist and see on the display the enlarged, real color image of your teeth and gums. Using this pen- shaped device, on the tip of which is mounted a mini camera, the doctor can see the cavities, fractured teeth, colorations, the integrity state of obturations ("fillings"), the presence of bacterial plaque, the gum inflammation state. The images taken are displayed on the monitor and they help you better understand how healthy your teeth are and discuss with your doctor your treatment plan. In addition to that, you can follow the progress made during the treatment.
This is a painless procedure, with no side effects. The device used has a disposable plastic cover.
14. Cavitron® Prophy-Jet® (Dentsply Professional)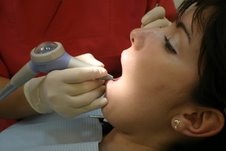 This is a dental prophylaxis device, which uses water, air and powder sodium bicarbonate in order to remove the stains, plaque and soft deposits on the surface of the teeth. Due to the slightly abrasive bicarbonate powder, it also polishes the cleaned surfaces.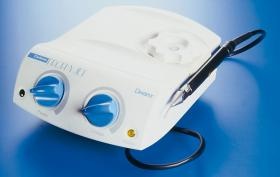 PROPHY-JET is an air polishing prophylaxis system which uses air, water, and either sodium bicarbonate (ProphyJet®) or non-sodium (JET Fresh®) powder as a slurry to remove extrinsic stain, dental plaque and soft debris while simultaneously polishing tooth surfaces.
Recommended to clean tooth surfaces prior to bonding procedures and placement of dental sealants. Highly effective in use on patients wearing orthodontic appliances.
Sodium bicarbonate is accepted by most patients and is both minimally abrasive and water soluble.
* A two position foot switch for polishing and rinsing modes.
* Fast, easy operation and for greater productivity.
* Powder control on the front panel.
* Uses Cavitron Jet Air Polishing insert.
* New easy to remove powder bowl.
15. Photo- polymerization lamp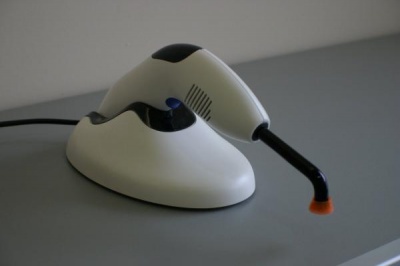 Bluephase C5 model manufactured by Ivoclar-Vivadent. It is used during cavity treatment for the polymerization of composite obturations (fillings).
For further details, please see the manufacturer's web address.
16. X- ray device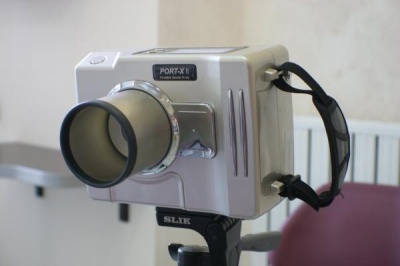 Portable x-ray device, model PORT-X II manufactured by Genoray
With this type of device, irradiation is kept to a minimum, and it is even further reduced by the use of a lead apron for the patient. It is possible to make both film and digital x-rays, and the latter will be displayed on the LCD that is included in the dental unit.
Given that you won't need to go to an external radiology center, your dental problems will be solved more rapidly.
For further details, please see the manufacturer's web address.

17. PentamixTM Automatic Mixing Unit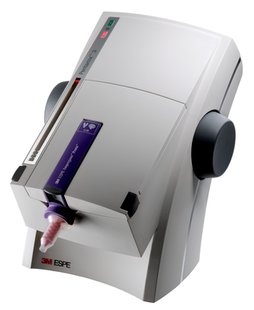 With the touch of a button, it mixes and dispenses a completely homogeneous mix–faster than any other unit on the market.
Benefits:
Dispenses PentaTM Impression Materials faster than any other unit on the market.
Saves counter space with the smallest footprint on the market.
Easy handling with push-button control on both sides.
Homogeneous mixing for void-free impressions.
Less waste–dispenses only amount of material needed.