Equipments dental imaging
Dental clinic DentalMed is fitted with the most modern dental treatment equipment. Here are a just few of the devices our doctors work with:
1. Computer Tomograf Veraviewpocs 3D MORITA Japan –NEW!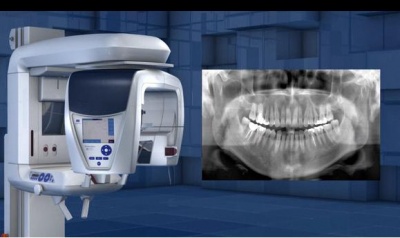 Veraviewepocs® 3D is a state-of-the-art panoramic X-ray unit that offers digital panoramic and 3D imaging options. High in resolution and low in X-ray exposure, it offers easy positioning and image manipulation, versatile image processing, and brilliant, distortion-free 3D images, even at the optional Ø 80 x H 80 mm size.
These high resolution 3D images are perfect for a wide range of uses in patient diagnosis such as implant planning, apical lesions, TMJ evaluation, and impacted teeth. Veraviewepocs 3D also offers a "true" panoramic image, not a reconstruction.
NEW Dose Reduction Feature
Veraviewepocs 3D, and all of Morita's 3D units, now come automatically equipped with a new Dose Reduction Feature for increased patient protection.
The Dose Reduction Feature is rooted in how the machines acquire information. Through advanced engineering, the intensity of the X-rays has been optimized which decreases the overall level of emissions. Dosage has been reduced 30% to 40% on all three-dimensional fields of view. Maximizing the efficiency of the machines has also resulted in sharper images of soft tissue with fewer artifacts. Dose Reduction now comes standard on every 3D unit Morita sells with no retail price increase. Existing models can also be upgraded with this new feature with minimal if any, part replacement.
2. Sistemul radiologie intraoral Kodak Carestreem CS 2200
The CS 2200 intraoral x-ray system is designed for performance and safety. The unit's very high-frequency (DC) x-ray generator ensures consistent high-quality images, while providing improved safety
conditions for your patients and staff. Compact and easy-to-use, the unit's handheld timer allows users to quickly select the right exposure settings.
The unit's high-frequency generator ensures maximum image quality while at the same time limiting radiation exposure. Generating up to 30% less radiation than conventional x-ray generators, the CS 2200 system automatically determines the optimal dose for patients.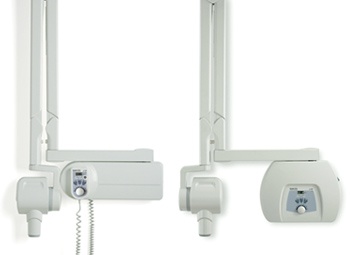 The KODAK 2200 unit has been designed to produce high-quality intraoral radiographies that:
• Reveal maximum details with the minimum dose to the patient.
• Show teeth and anatomic structures accurately with a minimum of distortion or magnification.
• Have optimal density and contrast to maximize their use for the detection of dental diseases.
The KODAK 2200 Intraoral X-ray system uses a high frequency technology that allows:
• Reduced X-ray doses for patients because the KODAK 2200 unit emits fewer soft rays absorbed by patients which are not used during image creation.
• Shorter exposure times which reduce the risk of motion blur during exposure
3. Portable X- ray device PORT-X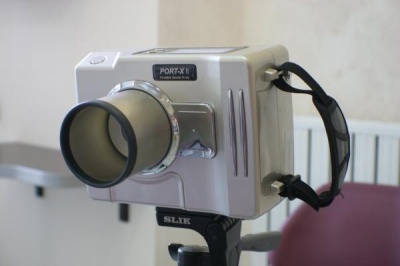 Portable x-ray device, model PORT-X II manufactured by Genoray
With this type of device, irradiation is kept to a minimum, and it is even further reduced by the use of a lead apron for the patient. It is possible to make both film and digital x-rays, and the latter will be displayed on the LCD that is included in the dental unit.
Given that you won't need to go to an external radiology center, your dental problems will be solved more rapidly.
For further details, please see the manufacturer's web address.